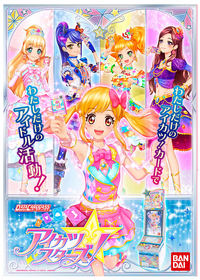 Data Carddass Aikatsu Stars! (データカードダスアイカツスターズ!, Data Carddass Aikatsu Stars!) is an arcade collectible card game from Bandai's DATA CARDDASS series. The new series was branched off from the Data Carddass Aikatsu! game, and is Bandai's original series aimed at female audiences.
Motto
From your personal Aikatsu Cards to your personal Idol Activities!
Gameplay
Introduction
The game casts the player as an aspiring idol student in Four Star Academy, a school dedicated to training girls into becoming idols. There, players are tasked to participate in contests called "auditions".
Beginning The Game
The game costs ¥100, with two modes to select from the Touch Panel: Single Player, or Card Purchase.
Players participate in auditions with cards. These cards contains clothes with four categories: tops, bottoms, shoes and accessories - which are given to the player's character upon scanning. How well the player dresses up their character determines how well their character will stand out and increase their performance rating.
As the series is a branch off from the Data Carddass Aikatsu! series, the system works similarly. The game has different modes for its auditions, consisting of live, fashion show, drama and dance. During the audition, you will be using three colored buttons, which are pressed corresponding to what appears on the screen, as well as using the touchpad for an improved gameplay experience during special appeals.
Bromide Special
You are also able to capture your idol during the audition performance, and print it out as a bromide photo. Using the "Bromide Make" feature, you can add different decorative parts such as stickers and symbols, as well as frames to decorate the image. The size of the bromide is twice as large as an original card, and requires an extra ¥100 for the service.
Dress Make
To make a tailor-made item for your idol, you can use the "Dress Make" feature to customise a piece of outfit, changing different aspects such as its shape, color, patterns and to add other decorative parts. Then this can be printed on your card with your idol. Accessories however, cannot be customized.
Series
2016 Series
Wings of Stars
Promotion Cards
Data Carddass Aikatsu Stars! Promotion Cards
Gallery
Main article: Data Carddass Aikatsu Stars!/Image gallery
External Links
Community content is available under
CC-BY-SA
unless otherwise noted.