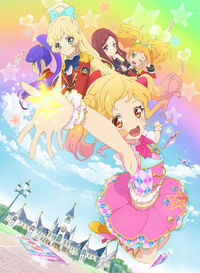 Aikatsu Stars! (アイカツスターズ!, Aikatsu Sutāzu!) is the anime adaption of its original arcade collectable game, Data Carddass Aikatsu Stars!. The series is produced by the BN Studios, and began airing on April 7, 2016.
A movie adaptation was announced on February 22, 2016 and premiered on August 13, 2016.
Plot
Main article: List of Aikatsu Stars! Episodes
The successful tales of the girls who strive to become
the top idols through their idol activities, "Aikatsu!":
"Aikatsu Stars!"

In Four Star Academy, the school of idols,
a unit known as "S4" that is formed of the four top stars in school is a big hit in the Aikatsu World!
As a new student, aiming for S4, our Idol Activities begin.

The sparkling "Aikatsu! Cards" and "Glitter" for the girls to self-produce and to let their radiance shine.

To shine brightly!
From singing to dancing to fashion!
Gathering all the admirations of girls, a new Aikatsu! begins.
Aiming for the number one star among the idols, start towards your Dreams!

To aim for the number one star among the idols,
let our dreams begin!
Notable Characters
Primary Cast
Secondary Cast
Staff
Planning, Original Work: BN Pictures
Original Concept: Bandai
Director: Terō Satou
Producer: Takanori Itō
Series Composition: Yūko Kakihara
Character Design: Yukiko Aikyō
Supervisor: Ryuichi Kimura
Art Director: Kenichi Tajiri
Title Logo Design: STEREOTYPE
Color Scheme: Masumi Ōtsuka
Color Checking: Takeshi Matsuo
Photography: Akihiko Fujino
Music: onetrap
Animation Producer:

Hayato Hashiguchi
Satomi Watanabe

Animation Production Cooperation:

Yasuho Tamura
Sachiko Sugimoto
Hatsue Nakayama

CG Production: Sunrise D.I.D. Studio
CG Producer: Kīchiro Inoue
Production: BN Pictures
Videos
External links
Community content is available under
CC-BY-SA
unless otherwise noted.