Sadly my attempt to help low scorers has once again failed DX I'm pretty frustrated over it but I guess it can't be helped. There's only 3 rounds remaining to AiStars Capicon so give it your all.
~Top 3~
1. NightBellRose - 6 votes
2. Staraptor - 3 votes
3. Yumesuzuki - 2 votes
A few people snuck votes in after I said the round was closed somehow, but it didn't even change much...
~Achievements~
1. My Favorite - Monoderpmatic, NightBellRose - I like Frozen... plus it was just really funny to visualize.
2. Picture Perfect - Amypop8
3. Most Creative - BearCute - it was very simple, but I like that it wasn't the dramatic route everyone else took.
4. Jo's Favorite - BearCute
~Round 8~
So this round is for everyone competing. Please don't forget your entry because I recall that happened in the round after the prior "special round". This is another 2-pic set you must combine!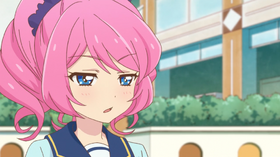 This round will end Saturday at Midnight, since my birthday is on Sunday and I'll be really busy. I had to include Laura for my birthday round~