Top 3:
1. BlueRose, Monoderpmatic, and CureLightning- 3 votes
2. Millyna, LauraSakuraba, StrawAikatsu, Missrubi - 2 votes
3. 7 Users - 1 vote
Yeah that happened.
Bonus/Achievements
1. My Favorite - Monoderpmatic and LauraSakuraba and Staraptor
2. Picture Perfect - AmyPop8 - It looks like a photo is being taken so you got a keen eye.
3. Most Creative - Jack Lorde and NightBellRose
4. Jo's Favorite - Monoderpmatic
Round 7
Just a warning, these following members must partake in this round or be kicked out for failure to show up: Shirokamiyukihime (I realized I accidentally put her into the poll from the last round, so yes this is correct.)
And yes as you can see this is a special round, because I've decided that instead of taking only the low-ranking members, I'm simply not allowing the currently HIGHEST SCORING members from competing to see if we can even out the scores even further. So if your name is on this list then you do not need to submit an entry:
CureLightning
Millyna
LauraSakuraba
Williukea
Now keep in mind these are people in the lead- but it doesn't mean some of you aren't close to reaching them. And I want to point out right now that this isn't my attempts to keep one of them from winning, I just want to make sure every user gets a fair chance at competing. The previous round when I did this really boosted 1 user and barely helped anyone else, so I'm hoping to get better results with this one.
Now, time for the image!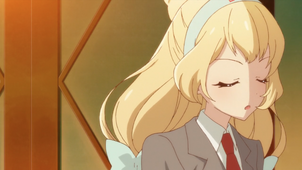 I wanted a Hime picture this time- but I didn't feel like looking for one so I just went to her image gallery to find one. Okay, so this round will go on until... Sunday at Noon.