Top 3:
1. Williukea - 10 votes
2. Cure Kohaku - 4 votes
3. Yumesuzuki - 3 votes
I'm kind of disappointed because the last round only actually helped one user DX I mean everyone gained points, but only 1st place got such a big margin. I think round 7 might need to be another "special round".
Bonus/Achievements
1. My Favorite - Williukea
2. Picture Perfect - N/A
3. Most Creative - N/A
4. Jo's Favorite - Williukea This round wasn't very great, so I'm afraid I couldn't hand out many achievements...
Round 6
I've already said this but as a reminder EVERYONE is welcome back into this round. However, these two users must show up for it, or else they will be banned from the Competition: Sakurabalaura123
Kimocji
Remember, if you need to be absent then TELL ME, if you miss 3 rounds in a row you're automically out I don't care what your points are.
Now then, here is this weeks picture!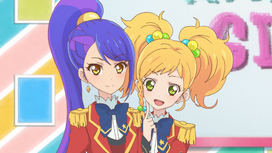 You can probably tell I'm trying to use different characters each time by now XD Anyway, this round will end... Monday at Noon.