Top 3:
1. Millyna & StrawAikatsu - 5 votes
2. Bearcute - 2 votes
3. Jack Lorde, Tatiana Cortez, FanaticAnime, Otaku0910 - 1 vote
Once again, there were several 0 points to several users; but a handful finally broke 10 points. However, for round 5 I do have plans. I'll fill you guys in on that in the round proceeding this.
Bonus/Achievements
1. My Favorite - Amypop8 and Otaku0910
2. Picture Perfect - StrawAikatsu13 and Cure Kohaku
3. Most Creative - Monoderpmatic, and FanaticAnime
4. Jo's Favorite - Monoderpmatic, Amypop8, BearCute
Round 4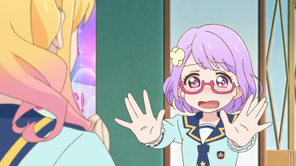 FYI, remember that I'm going to start removing 2 points if you make more than 5 sections of  dialogue. Also, if I see too many people use the same idea, I'm going to ask that you come up with another caption. I think that's kind of the problem with why several people aren't getting points...
This round will end... Friday at Noon.