Top 3:
1. LauraSakuraba - 8 votes
2. Bearcute, Staraptor, Curelightning, BlueRose1405 - 3 votes
3. Yumesuzuki, Tatiana Cortez, Millyna, NightBellRose, Amypop8, Jack Lorde - 1 vote
Er, yes... that was how the round went... several users got 0 points...
Bonus/Achievements
1. My Favorite - Millyna, Amypop8, Fanatic Anime
2. Picture Perfect - CureLightning, BlueRose1405, Williukea
3. Most Creative - LauraSakuraba, Staraptor, NightBellRose
4. Jo's Favorite - NightBellRose, and L44486e
Round 3
Okay guys, we're going to do something a little different. Think of this as the first "hard round". Instead of one Picture, you must caption two to make them connect. Oh, and remember no walls of text or I will be sending you a message.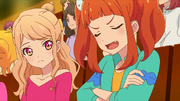 Okay, given the recent drama, instead of ending the round Sunday at noon, I think I'll do Monday at noon. Now, I have a few members to speak to. If they don't show up for this round I'll be removing them from the competition.