Alrighty, here we are to round 2- but first we must cover the top 3 of Round 1 and award Bonus Points~
1. Millyna - 6 votes
2. Missrubi - 5 votes
3. LauraSakuraba - 3 votes
Now, several users either got 1 or 2 points, or none at all. On one hand I know why this is- nearly everyone provided the SAME caption but essentially different wording. It was pretty boring for me and I assumed nobody really tried... But it was also my fault for the picture itself, so hopefully this next round the image will be more thought inducing...
Okay, so now for bonus points. Despite the above, I was able to determine who truly earned which Achievement.... multiple people in fact. Each one is worth an additional +2
1. Chris' Favorite: BlueRose1405, Staraptor Kwan, Laurasakuraba.
2. Picture Perfect: Otaku0910, CureLightning, FanaticAnime.
3. Most Creative: Missrubi, CureHibiki, StrawAikatsu13, NightBellRose, Monoderpmatic.
4. Jo's Favorite: Shirokamiyukihime.
Here's a reminder of the game rules if you need them: http://aikatsustars.wikia.com/wiki/Thread:65399
Remember, no wall of text entries and no editing your caption unless it's a grammar fix. But I will check even if you tell me that's the case.
~Round 2~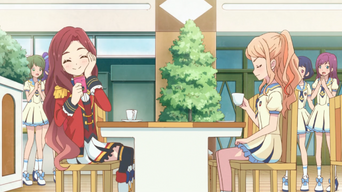 Okay, this round will last until... Monday at Midnight. I think my time zone is Eastern something...?