Hello everyone! I'm so excited to announce that I will be holding an official wiki event! Everyone is welcome to partake in it, but be sure to read everything in the topic. I plan to include a "special code" you must say in your sign-up so that I know you paid attention.
Okay, so Capicon is = Caption Contest. A Caption Contest is when someone has an image that you must respond to with your own chosen dialogue. For example, say this is the image: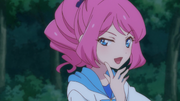 Now, in the comments, you, as the Players must respond by coming up with dialogue. Like say I'm the player, I could say...
"Should I tell Yume the back of her uniform is covered in red paint? Hm... nah. It will be a lot more interesting this way~"
See! It's that easy!
Now, here are the important stuffs ;3
~Rules~
1. Entries must be your own work, obviously.
2. Use your best grammar when commenting your response. Otherwise it may be hard for us to understand it and can cost you points.
3. Act apropriately. No dirty or gross jokes, you know, things forbidden from this wiki to begin with. You are also not allowed to use it as an excuse to bash a character or say something that could cause drama if other users complain about it. There is a difference between having fun and just being mean.
4. If you really need to miss a round, let me know. Otherwise you will lose a point.
5. You're only allowed one entry per round.
6. You are not allowed to edit once you post your entry. The only except would be if your entry got posted before you finished- but if you do that I will still be investigating to make sure you aren't lying. You lose points if you get caught doing that.
7. NO WALL OF TEXT ENTRIES. That really irritated me when I ran these before on other wikia. A few characters sharing conversation is fine, but you do not need to make a paragraph DX
8. Play fair and don't vote for your own entry...
9. You have to be signed up, obviously XD
10. Remember that this is for fun. Yes there are some prizes and points, but don't ruin it by getting competitive.
~Points~
As mentioned above, everyone will start with 5 points. For each vote you receive you will get 2 points in addition. There is no goal set of points, but for not participating, editing your entry, or breaking a game or wiki rule, you will lose points. If you get down to 0 you will be officially banned from the game.
~Prizes~
Yes :D there will be prizes for the winners! The top 3 places will gain a unique, specialized userbox for their pages. Everyone else who particpates will also be granted a participation userbox!
~Dates~
Each round will essentially last 3 days, followed by a voting period (which will last 2-3 days).
In order to let everyone sign-up, the first round will not be starting until September 4th/monday.
Now, if you're ready to enter you must repeat this statement: I (name here), will perform for the Aistars Capicon!