Hi everyone! Usually I don't post important wiki-related topics like this in this section, but with how frequently this has been going on I felt it was necessary.
I say Yes again because around this time last year I made the same topic... or it was right after Aistars started, whatever. Anyway, I noticed this has been a problem as of late and I was hoping maybe this will help clear things up to try to lessen how frequent this issue is.
Okay, so first of all, THIS is fanart: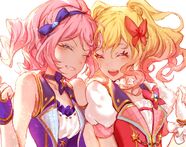 It's pretty cute and really good huh? Well, we all love fanart! We really do!
BUT it is not to be put on official wiki pages or galleries related to the series, these being: Characters, Anime, etc.
Fanart IS allowed on user pages, and on occasion in the comments. If you upload fanart but don't use it at all, expect a warning from an Admin because we really don't appreciate that.
Now sometimes it can be hard to determine what's official and what isn't. For example, this picture: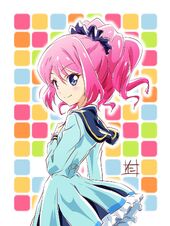 Wow! Look! It's amazing, and so cute!
It could be official art, or it might just be a really good fan artist able to match the series style. In a case like this and you really can't tell, just don't post the picture, ask an Admin for some help to determine. Usually you can tell by signatures or lack-of. Or you can compare various details with those in official art, such as the background or shading style, or tiny details and how they compare to normal, official art.
Alright, while it's obvious I feel it's necessary to point out the type of fanart that isn't promoted or allowed here:
1. Anything that makes someone uncomfortable
2. Anything with adult content, even if it's "innocent" fanservice.
3. Shipping fanart is alright as long as it doesn't fit into categories 1 and 2.
Okay, so sometimes people make mistakes. We were all new at one point and accidents happen. We're not going to persecute you over 1 mistake or not knowing better. But if you do it repeatedly despite being warned, or if you spam the fanart thinking people want to see it when they don't... prepare to be given more than a warning.