Why yes indeed it's the hot topic of the modern times, the new Aikatsu Stars series.
So those of us who are (most likely) on the Eastern side of the Globe, or those of us who are not but are awake helped uploaded a whole bunch of pics and assisted with a whole bunch of info, so here's what we've got so far, and what the wiki has decided to do.
New Series Name
Everyone knows it's 星の翼. After much discussion of 20 seconds, the wiki will be using "Wings of Stars", so all collection names will be Data Carddass Aikatsu Stars! Wings of Stars - Part X".
The word "part" is currently under debate, as we all know the 1st series came out in weather seasons. We'll see what WingsofStars have for us.
New Character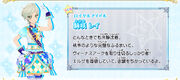 Well it's not really new, but we finally have more of a graspe on Rei, Elza's secretary. FYI, Rei's surname is "kiZaki" and not "kiSaki", as we predicted before. Check out her pretty much empty wiki page here: Rei Kizaki
New Brands and PRs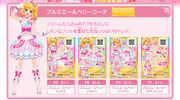 Yes, new brand, Berry Parfait, founded by Yume. 100% official now. It's Premium Rare coord is called the Première Berry Coord. Oh don't the shoes just look like those from Silky Love Devil Coord.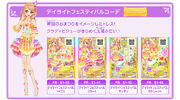 Next up we have Mahiru's PR from Romance Kiss, the Daylight Festival Coord. Honestly if you made a few more color variations, you could pull this off as Soleil's unit coord.
---
Then the new hot topic that everyone is curious about: Wings and Things. That's right.
So far we've got to know that the winged coords are Star Premium Rare Coords, a level EVEN HIGHER than Premium Rare Coords. waaaat
And they are based on planets, of course we all know, and I'm assuming there'll be 10 or so, 2 per collection, 5 per series. The Fever page is to be made, but what it's named after, (for instance Constellation Fever) is TBA, so yea. And the system is also TBA.
First up we've got Gothic Victoria's STAR PR,
Rosetta Thorn Coord
x Pluto.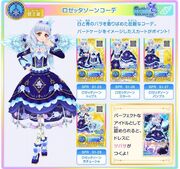 . Not sure if there'll be more than one pluto coord like story system and seiza system, so the decision to make a page for each planet is still awaiting.
And finally, Fuwa Fuwa Dream and Kirara. Kirara is their muse, might as well as be the founder, but this hypothesis is not proven. And Fuwa Fuwa Dream is a pop type brand, not a cute type brand. The Sweet Dreams Coord, a STAR PR, features the planet, Mercury.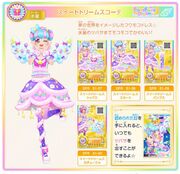 Might be the case where the wings and things fever features the planet mentioned.
---
So there you go, enjoy the rest of your day and yea!