Yes here I am again people, admire my new shippy avatar as you read a review from me on a super-late episode. I know I shouldn't even bother, but I'm sure SOMEONE will still see it. There's no harm in encouraging discussion with super late episodes. I'm also hoping to get back into the swing of things, so either later today/tonight, or tomorrow I'll be watching another episode, etc. Hopefully.
Without further ado, lets Review-Katsu!
Also, because I'm lazy I just copy-pasted the summary I had to re-write TWICE. I still added my personal comments and opinions though.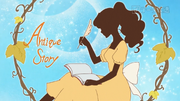 Checking out the latest fashion magazine, Yume, Laura, and Koharu make plans to go out and do some shopping that weekend (In typical girl fashion). But suddenly Yume recalls that My Little Heart will be holding its Autumn fashion reveal at the same time, including the release of its Premium Rare coord, so they reconsider and decide to do that instead.
(Cause yeah, totally. I'd rather go waste time watching a fashion show for an outfit I couldn't obtain ever. Right.)
Excited over the brand new coords, Yume decides to Dress Make for a bit. But while she observes her choices she happens to overhear Hime from the second floor and is invited to join her. There they quickly begin to chat about the upcoming event when Lilie intervenes, requesting to come and join Hime's meeting. Hime agrees, and allows Yume to attend as well.
Later they join Hime at the My Little Heart office in town (
Am I the only one who ever expects the brand buildings to be more extravagent?
Where's the adorable pinkness and cute bunnies?
). Yume and Lilie sit off to the side and observe the meeting, with Hime showing an adult side to herself that impresses Yume greatly (
Not sure why considering she's seen her be serious before
). Lilie explains that Hime has to show a serious personality here since she is in charge of the brand- something that surprises Yume, as she goes on to bring up how each member of S4 is the muse of the existing brands (
Cause they're too lazy to pull a Mizuki for everyone
XD
). But in Hime's case, rather that join one already made she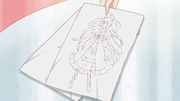 decided to go and make her own.
When the meeting ends, Lilie and Yume join Hime for lunch and bring up how the meeting went. While Hime has drawings and ideas, they're not finalized and they don't actually know what plans to go through with.
As Lilie recalls something she asked Hime, she brings up her desire to join S4 in hopes of making her own brand a reality at some point. They ask Yume of her aspirations and she recites her desire to be like Hime, which also means joining S4. This shallow answer leaves Hime perplexed, and while she is happy that Yume admires her, she points out that Yume should make sure this is what she truly wants.
Confused by Hime's words Yume and Lilie take off after Hime leaves to do some recording. She watches as other students train, too distracted with her thoughts to do much else and decides to ask her friends of their desires.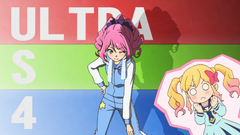 Laura wishes to become not only an S4 member, but a US4 member- the Ultra S4 who wins everyone over with her singing and dancing.
(Funny story here, I accidentally wrote ULTIMATE, rather than Ultra. I only just realized it while writing this. I guess Dream Festival is finally getting to me XD they spout that word every five seconds.)
Mahiru wants to surpass Yozora as top model, while Ako claims that she only plans to become a Star actress and her joining S4 has nothing to do with getting closer to Subaru (While being cute Akonyan Tsun-Tsun the entire time~). Yume returns to her room and brings up what happened with Koharu, and momentarily feels relieved when Koharu brings up her original desire to become just like Yozora. But now she realizes she has to find her own unique path; which disappoints Yume when she realizes she's the only one who had yet to think over a true goal.
Meanwhile, Hime is preparing to leave when Subaru approaches. He was also recording and had to wait for his ride, so Hime invites him to share one with her. He accepts and Hime invites him to attend the upcoming fashion event. Subaru then brings up Yume, discussing her amazing performances and the strangeness about them in hopes of getting Hime to open up. He recalls how something similar happened to her, but rather than answer she brings up that they have arrived. Frustrated by not getting an answer, Subaru takes off- only to bump into Hikaru, who seemed to be waiting for him.
Yume is snapped out of her day dream the following day, where she dreams she told everyone of her desire to be like Hime and join S4. She is met with stunned silence, and attempts to find why why they responded like that. She heads into the hall once class ends, with Laura trying to convince Yume that over thinking it probably wouldn't help her much, and that she has to figure it out some other way. Inspired with a sudden idea, Laura leads Yume to the Library and brings up the past S4 members. So together the girls begin looking up information on past members; surprising them when they see a girl named Hotaru, along with Anna, Tamae, the sister of Tamagoro who inspired an interest in Paris Fashion, and Momoko, who was the first student to land a Hollywood movie role. Each member was unique and never wanted to be like someone else before them.
That night Lilie works on sewing together an ornament when Yume joins her to chat. She apologizes and admires the dress Lilie has been working on, asking Lilie what inspired her to want to create her own brand. She explains that while she wanted to be like Hime she knows that isn't practical, and has no idea what she truly wants from S4.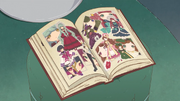 Lilie recalls her inspiration, locating a book that Yuzu got for her when she was younger and bedridden. Within it were gorgeous illustrations of dolls, all adorned in amazing attire, each of which touched Lilie deeply and become inspired to create her own brand. Had Yuzu not gotten her this book she knows she wouldn't be standing where she is today. She is sure it was a sign of fate, but whether someone accepts or denies their fate is entirely up to them.
(I wish they actually used real fashions like this in Aikatsu. I guess they wouldn't be entirely practical for their dancing- but I'm sure its not impossible. They're so cute, but perhaps I'm biased since its my own favorite fashion sense~)
Eventually the day of the reveal arrives. The girls watch as the various Rare dresses are revealed, with the trio fawning over them while Lilie takes notes. This is followed by Hime revealing the Premium Rare dress after she introduces herself and expresses happiness in seeing the crowd, going back stage to change into it. She appears on stage to perform "So Beautiful Story".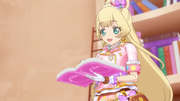 After the performance ends, Koharu and Laura compliment it while Yume realizes she really has to become her own person. She admires Hime and can continue to do that- but she has to travel down her own path rather than chase after hers.
As Subaru admires the power behind a Premium Dress and Hime's performance he attempts to approach Yume, only to recall what Hikaru told him. He caught onto Subaru beginning to look into the strange behaviors, so he asked Subaru to stay away from Yume rather than bring it up again. He takes off to avoid being noticed as Hime leaves the nearby room to approach the four girls. She thanks them for coming and Yume compliments the Premium Rare Dress, along with Lilie. Yume then decides that from this point on she won't ever talk about wanting to be like Hime anymore, she will focus on trying to find her own true goal. Lilie recalls a famous quote and encourages Yume, along with the other girls and Hime.
With that the episode concludes. A lot of people had been saying lately that Yume could possibly become an Admin, or probably will. For a while now I've been thinking that too, and after watching this episode I'd like to say I hope they make it realistic. A few S4 (or was it all of them?) were Admin before joining, so it only seems right to make Yume have her time as an Admin as well.
In terms of the episode itself I actually really liked it :3 It wasn't dramatic or upsetting in any shape or form, everyone seems to be in good-spirits again (at least for now...). It was genuinely a typical Aikatsu episode; the kind I like. 
I'm also glad they have been achnowledging the Yume thing, with Subaru actually showing concern rather than letting it happen. As much as I've decided I don't like Suyume/Yubaru/whatever it is, he's actually being a good friend/person. Although I do know for a fact he goes back to normal in the next episode from what I saw already.
The art and animation was also really good for this episode! In the past few it seemed like they couldn't make up their mind and it was so disappointing. But I'm happy with the results again.
That's it for now~