Sorry sorry DX I'm not really sick anymore thankfully, but I've been busy, not only with now Adminning and helping out on Dream Festival wiki- but also due to a LOT of drama happening at home these past two weeks...
Anyway, I also already watched episode 25 but I won't be reviewing it. I'm left with mixed opinions and I honestly couldn't make up my mind on anything about it. I don't like to write reviews when that happens. I will say one thing though; Hikaru... totally threw me through a loop XD didn't expect that at all and that was probably the only thing I can guarantee right now that I enjoyed about it.
Without further-ado, lets review-katsu!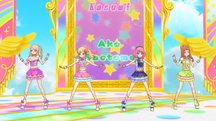 The episode begins with Yume, Laura, Ako, and Mahiru introducing themselves to the Audience and greeting them. They head into the building to change into their school coords and appear on stage to perform Aikatsu☆Step!
While taking a break, the foursome is called upon by Anna to pay Hikaru a visit. He has come to the decision to let them take a few days off for all of their hard work. As it turns out, he also provided Koharu with a break as well, so she decides to use this time to pay home a visit in order to see her father. Since he works so much they don't interact much.
This inspires Yume to bestow her own family a visit at their Pastry Shop. Mahiru, realizing the shop happens to be the Rainbow Confectionery she's heard so much about, asks Yume if she can come home with her for the visit. Yume allows this, and Laura decides to join. They ask Ako to come too- but she refuses, claiming to be too busy.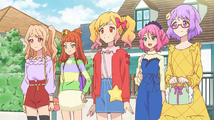 As it turns out, Ako wasn't busy enough. For she joins them, showing up five minutes earlier than Yume and Koharu. Together the five girls head to Rainbow Confectionery and greet Yume's mother at the counter. Her father joins them with some pastries and drinks, with Koharu and Yume momentarily nostalgic as they recall their favorite pastry to eat back when they were little.
(I loved the part when Ako got startled by Mahiru's reaction. It was so cute how she brought out the cat paws and clung to Laura~ so cute, so cute!!! Laura X Ako Forever!
....I mean... it was nice...)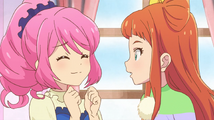 Back in Yume's room, the girls discuss how Koharu headed on home. Yume, Laura, and Ako sit together on Yume's bed and invite Mahiru to join them; but in the end she resigns herself to the chair, claiming it would be annoying for them to try to talk in a row. After Ako complains on the mood that was ruined, Laura teases her about this in order to see Ako Kitty.
Ako.Kitty.
AKO.KITTY.
Its a thing!
Laura X Ako Laura X Ako!
Also, that bed scene was so cute and funny. I rewatched it probably three times. Also note Ako cat-pawing Laura's head afterwards! So cute!
Yume goes on to bring up how close everyone has become lately, with all the girls surprised by the turn of events since none of them expected it. She suggests they pretend to be S4 and do the "thing", but they refuse until she reminds them of the pastries they all ate together. Hesitantly they end up agreeing, causing her Mother to question the behavior as she joins them a moment later with a Photo Album.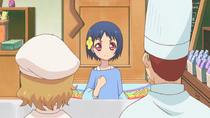 As they observe the pictures of little Yume, a customer suddenly arrives- just as Yume's mother brings up that it was because of Yume that the shop managed to open. Curious, Yume follows them, staying in the hall to spot a young girl, the neighbor, Reina.
Reina has come to request they lend her a hand making a cake for her Mothers birthday, because she doesn't know how to. At first Yume's father is unsure, stating that they are already backed up on orders and it may be too time consuming; but Yume intervenes suddenly, requesting to lend Reina a hand, along with the others. With the girls willing to pitch in, her dad quickly reconsiders.
Together they write down what Reina's mother likes before heading out. They grab grapes and custard cream, but Yume stops as she recalls a detail Reina brought up earlier (the fact her mom loves flowers and has a flower dress she loves wearing), and asks her and Laura to head back while she makes one last stop.
Upon arrival back to the Shop they find Ako mixing ingredients while Mahiru prepares the eggs.
(One perfect and precise at a time...)
(Now, I take my time when I bake as well but that's for an entirely different reason. I'm paranoid I'll mess up. You can't rush love you put into baked goods, and when I make my baked goods I want them OVERFLOWING with love~)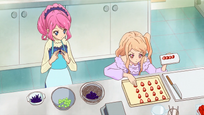 By the time the girls are finishing the cake, including preparing the fruits and minimal decor, they stop to send a picture of what they have been doing to Koharu. For a moment she shows her parents and brings up the fact that Yume hasn't changed- as well as mentioning how close she is to the others.
Yume decides that with the final touch left, she would bring out her surprise. However, she wants Reina to put it onto the cake to make it extra special. Before they can though, Reina hesitantly claims to no longer want or need the cake. Surprised, Yume asks why this is, worried she doesn't like the cake. That isn't it at all, and Reina explains the recent arguement she had with her mother. Since her baby brother was born, she had been too busy to play with her. Out of resentment Reina said something selfish, and wanted to take it back- but she's been too nervous to do so. She was hoping with her mothers birthday, and the cake she helped to make, she would have the courage to apologize.
As Reina apologizes for the wasted time, the girls tell her that because she loves her Mom, and put in so much effort into what she did, she is sure she will be able to understand her feelings. Touched by their words, Reina reconsiders and agrees to go through with it. Yume goes on to reveal her special surprise: Flowers. She recalled what Reina said about her mom and had stopped to pick them up, figuring they would make a nice touch. Before going, Reina thanks everyone for their help.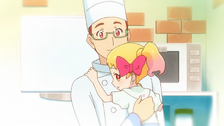 After Reina heads home, Yume's parents comment that because of her, Reina was able to feel better. She then recalls what her mom started to say, causing her dad to become flustered for a moment. Her mom claims it simply slipped out, so he explains what happened. 
Back in the past, the shop was preparing to open and he was unable to think of a specialty menu. He was stressed when Yume suddenly came into the room, crying and seeking comfort. He picked her up after gently chastising her for going somewhere she shouldn't have been, but Yume stopped the second she spotted the cakes on the trey. Before he could stop her, she began to indulge her childish innocence and ate one of them. Seeing her bright and happy smile encouraged and inspired him to keep going- and in no time the specialty menu was born.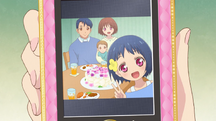 Back inside, the girls compare the effects of what a Sweet can do for someone's mood to what they do as Idols. Yume's father wishes the girls luck with their continuing work afterwards, and together the girls observe the picture Reina just sent to Yume.
With that the episode concludes. It was such a sweet and cute episode, I really enjoyed it and (not counting episode 23), the 20-episodes have been kinda lousy in my opinion. As I said, I don't even have any opinions on 25 so I won't be doing a review for it at the time. I may reconsider but there's no point in writing it if I don't have anything to say that can't just be said here.
In terms of performance I enjoyed it. I know same old song, same outfits, 2 out of the 4 Idols already performed it; but I still enjoy it. Like Idol Activities and Lets Aikatsu, its overused but I enjoy those songs. I know I'm not the only one.
The one thing that bugged me about this episode was that until the middle of the episode, the eyes kept looking weird to me. Like some times the white part wasn't colored (in shots I believe they should have been, it wasn't a question of size), they looked like they tried to make them even smaller or something. I wasn't the only one to notice that right?
Also, had I not baked last night (Strawberry Chiffon Pie, if you were curious), this episode would have REALLY made me want to. In fact I need a sugary snack now after writing this.
Anyway, see you guys next time!