As I've said, I've been on and off sick the past month and a half; someone went ahead and did the summary/plot (I don't remember which is which at the sec) for me. So that saved me some time and I didn't want to skip any episodes. However, in this time I've been "off" I tried to think of ways to improve my reviews. I'm not really sure how to go about that other than winging it. So let's see how that goes.
With my Aikatsu, let's Review!
With half of a year over, Laura and Yume are further dedicated to their goals of becoming part of S4 before the remainder of the year ends. They recall Anna's words of indivisuality and Yume decides now is as good as any time to try to find what makes her unique. 
Meanwhile, Yuzu is hanging out with Lilie. She hands her a ticket to her event, which is just nearby and she'd love for Lilie to come and watch. Concerned, Lilie remarks that she might be okay (in her own poetic wording) and agrees.
Two minutes in and I already LOVE Lilie. Not only can I relate to her, but she's precious, and her unique way of talking is something special we've yet to experience in this series/season. I didn't see it coming at all. 
Currently, the hot topic at Four Star Academy are the Seven Luckies. Said to answer a students Prayers, all seven must be located. Enticed, Yume and Laura decide to try to search for them, starting with the first: Search for the Four Enormous Aligned Stars inside the school. Koharu recalls the emblem used by S4 when Mahiru interrupts- having already figured it out.
Ah, Mahiru-chan! So nice to see you again~
She brings the trio out to the field, where they find it has four large stars in a straight row, right in the center. As Yume expresses gratitude, Laura reveals the second Lucky: Make a Prayer to the Infinite World. Declare your resolve to your Infinite Self within the Mirror. At first the foursome are stumped, given how many mirrors are on the campus. With a strike of brilliance, Laura gets an idea and brings the others into a changing room. She opens the thin door with a full body mirror, allowing the mirror behind them to catch a reflection and the image between the mirrors to repeat infinitely.
Declaring her personal desire, the girls move onto the third object; If you desire flair, find the dancing fairy! and locate her from the light in the dance building's training room. They head to the art room for Number Four: If you meet a Beautiful Person in the Art Room, you yourself will become just as Beautiful.
Right now I'm getting some serious Survival Horror Game reminders XD Whenever there's an Art Room or anything related to art there is always a Bad Ending waiting.
Patiently the girls wait, but with nobody in sight they find themselves losing steam. They continue to wait, when suddenly Koharu spots a painting titled "Beautiful Person", right near them. The girls admire the painting, then prayer to it before heading to the Library, believing it connects to the Fifth Item: To sharpen your Dance Moves, step to the Rhythm of time. They approach the large grandfather clock, concerned it may not be it until Koharu points out its the only clock on Campus that plays music. When it does, the four dance along, requesting the irate Admin to let them finish.
Arisa, yet another Character we've barely spoken to for some episodes. We're just getting to see everyone again aren't we?
That evening, the girls are still awake to reach the Sixth Object; After Nightfall, open your ears to the Melody of a Tiny Piano and say a Charm to improve your singing voice. Together with Mahiru and a half-asleep Koharu (clutching an adorable plush doll btw), Yume and Laura sneak into the piano room and spot a tiny piano resting on the shelf across the room.
The following day, the four tiredly contemplate their next move at Breakfast. Unlike the past six Items, this one has no lead for them to follow; Search for the Tundra Diva who turns all who look upon her to ice.
As this is going on, Yuzu is introducing herself to the staff she'll be working with for her performance. She changes clothing to get some practice when a chill alerts her to Lilie's prescence. Lilie remarks on the weather, recalling a quote from one of the book series she reads, Anne of Green Gables.
I honestly didn't expect that reference at all. I liked that series when I was younger, and it never really occured to me that Japanese people read it... I don't really know why.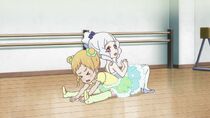 Yuzu is delighted that Lilie has joined her, and asks that she helps her stretch. Lilie agrees, and they recall doing this in the past when they took dance together. Back then Yuzu struggled, but Lilie was able to encourage her by recalling the quote "Our greatest weakness lies in giving up", by Thomas Edison. Currently, Yuzu continues to struggle, but with Lilie she keeps going, with each girl commenting on how little the other has changed over the years. Suddenly, Yuzu is struck with inspiration!
Having spent all day, the foursome is ready to call it a day. Once again we're reminded of Yume's "airy" nature when she points out she doesn't know what a Diva, or Tundra is. Laura looks it up for her, and they worry the seventh item may not be able to be found until Winter. Mahiru points out that they don't even know anybody like that on the Campus and Yume tries to lighten the situation by saying they found more than they haven't, and should consider it a win. This isn't satisfying to either Mahiru or Laura, and with a new resolve to locate the final item they resume searching.
Yuzu reveals her idea to get Lilie involved in her performance that day. Lilie remains silent, and Yuzu worries she may not be feeling better yet; but Lilie comments that she simply didn't think such a thing would occur. Yuzu doesn't believe this suits her at all, recalling their elementary school Art Festival. A student got sick, so Lilie filled in for them as the Prince's Friend while maintaining her own role as the Princess. She wonders why Lilie seems anxious, and confusing the Director, Lilie admits that with the l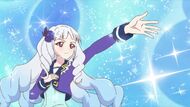 ack of time, she may be unprepared. Yuzu already thought this through however, deciding to help her.
Having given up, the foursome find themselves back in the Cafeteria. Suddenly, Miki and Yuri approach the gloomy group and determine what they're up to, recalling back when they tried to do it. It's easy until reaching the Seventh item. They have no idea who the Tundra Diva is. Miki recalls that the student befitting of this title is currently on break from school. Every year the seventh changes to the special title belonging to one unique student. Before it had been "Stern Greek Sculpture", which was Tsubasa, whose pose reflected that of a past sculpture. Miki reveals the student in question, Lilie Shirogane, second-year in Song Class.
None of them have heard of Lilie, and Yuri mentions that she is an Admin with a frail body. She takes time off whenever the weather is too warm to recooperate at the plateau. She is extremely indivisual and one to be seen in person; which immediately triggers Yume's desire to meet Lilie; something that is impossible at the time, since she won't be back for a while yet. Miki recalls they do have a video of her performance in the Library though, and there, the four quickly learn where Lilie obtained her unique title.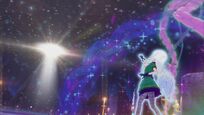 Yuzu goes on to announce the surprise guest that will be featured for the performance. She introduces her friend, Lilie to the audience, and right away she dazzles everyone with her icy exterior- with a few recognizing Lilie and excited to see her. Lilie speaks to the Audience, then changes into the Shadow Coord to perform Dreaming bird.
After awakening from their awe, the audience applaud Lilie. Yuzu compliments her friend before handing her a drink she favors, Vienna Coffee. Lilie recalls another quote from Anne, one she hasn't thoguht of in so long and she thanks Yuzu for giving her this opportunity.
Yume is excited to meet Lilie even more now. Mahiru reminds them that not only did they find all Seven Luckies, but they also learned more about indivisuality. Yume suggests they each start with thinking up a catchphrase and title to call themselves; only to overcompensate while trying to come up with one befitting of her.
In the end, we get to meet our newest Idol in what I believed to be a fairly good episode. We saw minor characters, we saw a few adorable flashbacks, we had comedy, cute things, all of the perfect things needed for an episode. Nothing really bothered me about it either- compared to the past few episodes. The art wasn't awkward at points either so I'm guessing someone was off their game with the last one. 'I enjoyed the song as well, and only cemented my opinion that I fairly like Lilie.
I'd give it an 8 out of 10 Idols XD It was a really good episode. Not perfect, but good. It was kind of all over the place, which can be a bit annoying some times. But here it ran really smoothly.
There has been something bugging me though. This series IS called Aikatsu, but does anyone think that maybe it shouldn't have been? I mean yeah, they have Aikatsu Cards. But that's virtually it. I feel like this series isn't focusing on the minor details of Idoling like the original series did that made Aikatsu special. I liked to learn how an Aura works, or how the girls put in efforts to obtain their cards. I feel like this series could have been called anything else and still carry the same meaning. When you take into consideration the name literally means "Idol Activities", yes, it relates to what the series is about, but... I just wish they'd get back to making episodes for the ELEMENTS of what MAKES Aikatsu what it is.
Anyway the next episodes review will be up MUCH sooner this time, I promise. See you guys next time!