Well recently things have been a bit bad for us members. Arguing over opinions, name disputes- typical fan-based issued XD Anyway, I thought maybe something light and fun would be kind of nice for us and I am way too sick to work on my reviews at the time (I know I'm an episode behind, but someone did my work for 23, so I don't need to deal with writing the summary for once. That should speed up the process a little).
Basically, provide a caption to fit this image I have chosen!
BUT THERE IS A CATCH. YOU HAVE TO PROVIDE YOUR OWN IMAGE AND TEXT TO GO WITH IT.
For Example, say I chose this image: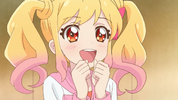 Then you, as a replyer chose this image to go with it, along with a caption.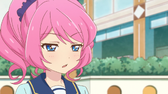 Yume: Wah~!
Laura: Should we be worried about her? She's been making that same dopey expression for the past twenty minutes.

FOR CURRENT IMAGE, FIND MY MOST RECENT COMMENT IN THE POST
Previous Images: