I know I know, this is over a week late. I have no real reason honestly XD Somehow I actually forgot about this episode. I really don't know how that happened, but given how late it is I'm not even sure if anyone will see this.
Also, since I heard the forums will be changing soon- I may have to resort to writing my Reviews in blogs. SO if you do like seeing them be sure to start watching for those or checking my blog listing to see if the next one is there. I think the next few reviews should be okay, but I'm not sure when the switch will take effect.
With my Aikatsu, let's review!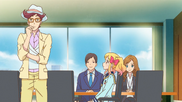 With Yume as the chosen Idol for the mini-album release, the Director has brought her into his office to hold a meeting. The only real thing left to do is to come up with an Album name and set up for it. He coins the name "Yume's Dream Start" with her, which she approves of and takes off.
(Isn't that title a bit redundant...?)
Suddenly, the Director gets a call from Hikaru. To his shock, Hikaru wants Hime's Album to be released on the same day. He tries to convince him to change his mind- but knowing its pointless he hesitantly agrees.
(You know, now that we've gotten to know that Director, I actually don't think he's such a bad guy. I remember everyone was kind of upset or blamed him for being fickle or a bad person- but he was only doing what Hikaru wanted him to do to begin with.)
In the Cafeteria, the girls enjoy lunch while two classmates come by to congratulate Yume. Realizing the release date is very soon (Sept. 8th, the day the episode aired), Laura and Koharu start to worry that Yume isn't taking this as seriously as she should. As they chat, a program by S4 starts up, announcing that Hime is to be releasing her album on the same day. While Yume is delighted by the news- she has to be reminded by Laura and Koharu that this falls on the same day of her own album. After a moment of alarm, Yume is too excited to worry and gets up to leave when she realizes the time.
To build up hype over the new album, Yume has been invited onto the Aikatsu Wave radio program. It goes by without a hitch as they compliment her and wonder if she may be Hime's successer (words anyone with most of a functioning brain would have known best to ignore... no offense Yume. Who proceeded to head-desk the table before her as they end the program...)
Yume fantasizes over the words spoken by the hosts of Aikatsu Wave when Hime approaches her. She reveals she came to take part on the popular program: Why did YOU become an Idol?. When Yume brings up her album release, Hime realizes it happened to clash with her own Albums date and grows quietly suspicious. Yume is concerned momentarily, but she claims it to be nothing and wishes her luck, asking if she has been practicing and training her voice. Yume is sure she will fine, but starts to cough, which causes further suspicion for Hime. 
(Thankfully Yume's brain seemed to be working right here. She didn't end up thinking Hime was jealous of her, like some arrogant idiots with overblown heads.)
In their dorm room, Koharu is greeted by a lifeless Yume, who has just returned home. She speaks only for a moment, and when Koharu asks Yume a question she finds that she has fallen asleep already.
The next day, Anna dismisses the class from their training session. Everyone takes off, with Yume running by Laura, who had decided to stay and continue. Anne shows support with this and observes her before recalling the recent defeat she took. For a moment Laura thinks back to it, then claims she honestly didn't think she would lose. While it was upsetting, she doesn't have any plans of ever losing to anyone else again. Seeing her dedication, Anna is supportive of her decision.
(My poor little Bubblegum Ringlet DX)
Later in the day, the Producer brings Yume to the Recording Shop. He managed to get a large display for Yume, as the Manager likes her singing and it came off a a favor. Yume is further excited, and before he leaves, he reminds Yume that they will start to record the song the next day and warns her to prepare for it. Yume's confidence further rises while she observes the spot her display will go. 
That evening, Hime is asleep, dreaming of a past performance. She did great- but as she left the stage she suddenly collasped and had a coughing fit, struggling to breath as Hikaru runs over to her to see if she's okay. Hime awakens from her nightmare and recalls that event, and how she almost paid a heavy price for it.
(Hope everyone who assumed he's a bad guy and is now switching sides is kicking themselves ;3 It's obvious that the girl on his desk aligns with what both Hime and Yume have. Since he apparently lost her (in some shape or form), he watches over anyone posessing the same traits or shows anything suspicious.)
Yume arrives at Kurun2 Studio the following day when she finds Hime out in the hallway. They both have recording to do that day, and Hime wishes the both of them to do well. However, Yume struggles, barely singing above a whisper while wondering what the problem is- along with the Director and staff, who starts to wonder if he was making the right decision.
Defeated by her sudden struggle, Yume retires to the hall for a break. She recalls her coughing fits as of late and starts to panic over what the problem is as Hime joins her once more. She asks her for some advice, and Hime prepares some tea for Yume, along with a shoulder massage. She is sure Yume will be fine, and asks that she tries to sing again. This does the trick and Yume happily realizes she can. Before she goes back to finish, Hime gives her some stern advice.
This time in recording, Yume has managed to do much better. Once they finish the Director apologizes for what he said, and he is sure they will one day work together again.
Over the time, Yume does a lot of work to spread word of her upcoming Album release. She holds a handshake and autograph event, and eventually the Album is finally finished.
In Hikaru's office, Yume is brought inside to show her. She is delighted to see it completely done and admires it as Hikaru remains wordless and keeps to himself.
After taking off, Yume changes and runs to the Record Shop to see that her albums are actually there. She is happy to see them, but begins to express concern after realizing all of Hime's have sold out already. She has also taken the number 1 spot on the selling chart. Yume isn't too surprised- but she is doubtful over her own success. As she focuses once more, she recalls that Hime will be performing and heads to the concert hall.
(It was obvious Yume wouldn't sell nearly as many. But at least her budding confidence hadn't gotten the better of her- as it has several others in various works.)
Hime changes into her chosen attire and heads on stage to perform. After she finishes, Yume is left thinking about things again and feels somewhat down. She heads out and happens to cross paths with Laura, deciding to confide in her over how she is feeling. While she realizes she was starting to become arrogant, thinking she was closer to reaching Hime than she really is, she can't help but feel bad. Laura thinks this is a good sign though, since it means Yume is growing as a person and an Idol. In the past she would have shrugged off her loss to Hime, someone she admires so much.
Touched by her words, Yume suddenly attempts to embrace Laura (once again met with rejection as she collides with the bench). She sits up and spots the dropped items of Laura's, including one of her albums. Surprised, Yume asks about this and Laura claims that because its her best friends big moment, she had to be supportive for her, and that it means nothing. With that, Yume is suddenly starving and suggests they grab something to eat, since its getting late.
With that the episode ends, not with a huge revelation or spoiler; but with someone's hunger ruining a moment XD Um... in terms of Episode, it was okay. I feel like we learned a little more of the "mysteries" surrounding this series, but at the same time it was just a sequel from the last episode. As I mentioned, I kind of dislike "two part/sequel" episodes, but they happen. Did anyone else notice the art change this episode? A lot of shots looked REALLY good, but at other points, the characters looked squishy moe blob cutie-cute. I actually didn't like it much, I thought it was a quality back step.
The performance wasn't anything new, but I felt like the quality was a bit better. It always seems like when the art suffers the performance doesn't, and possibly likewise.
I'm really excited for the next episodes review, which SHOULD be coming by Tuesday at the latest, but I'm hoping to do it tonight or at some point Monday.
Until next time~