Lately I don't think I'm doing that good of a job with these- but I really don't know what I'm doing different compared to the originals, or even what may have changed...
But its doesn't matter, I like doing them and its fun :3 so remember to leave a comment if you enjoy them. I plan to do something special for episode 20, like I did when we reached episode... 10 I think it was. By the way, check out the new intro I'll introducing starting from this episode:
With my Aikatsu, lets review!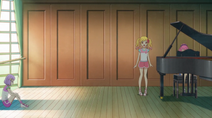 One day, Yume, Laura, and Koharu train at Four Star Academy. With the air conditioning not working the girls are unable to stay focused, and worriedly retire to the Cafeteria after Koharu grows dizzy. There they get some juice and attempt to eat something- but as Koharu claims not to feel hungry they spot the huge amount of food on Yuzu's tray. Concerned they may not be enjoying summer to the fullest, Yuzu reveals the poster for the upcoming Burning Summer Dance Battle. An event to determine the top dancer of the year that takes place every summer. After the girls realize how nice it may be out that way, they decide to take her up on the offer.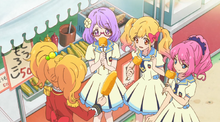 Upon arrival (After enjoying the cool breeze and the adorable animals), the girls are found by Yuzu- who calls out to them and takes them on a quick tour of the various stands surrounding them. They eat ice cream, grilled corn, cream soda, and tacos.
(Even idols can't resist pigging out during special events or festivals~)
Just as they wonder how Yuzu can be with them when she should be training, two Admin show up, Miki, of the dance class (one we already formally met), and Saya, who attends Moon Beauty. Neither of them are happy that Yuzu has just taken off like this, but she tries to claim it to be fine since she already participated in the Prelim round and has passed it. Both grab Yuzu and (once again) drag her off, heading towards the waiting area with the rest of the class as Yume, Laura, and Koharu follow them.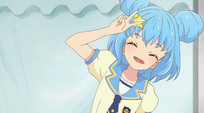 At the waiting area the girls are reintroduced to Dave Satou, the teacher in charge of Wind Dance, and they take a moment to watch as the final duo for the Prelims step onto the stage; the Boney Boney Brothers. They perform and manage to steal the top ranking of the round, astounding everyone for a moment before Yume wishes the class luck- only to find out they all failed except for Yuzu. Even the (adorable) Lollip- I mean, Haruka. 
(I'd like to take a small break in this to point out this part actually terrified me. I am horrified by skeletons and seeing them DANCE... yeah. I will make an exception for Jack Skellington but that.is.it. Now excuse me while I resume cringing...)
Suddenly, they find that Yuzu has fled again!
Within a large building Yuzu observes the land before her, the venue, from a window. She baskes in its glory before turning to her mysterious friend and offering one of the crepe she picked up. The girl accepts the gift and tries it, silently accepting its taste and agreeing with Yuzu when she compliments it. With that Yuzu decides its time to head back and runs outside, waving to her friend and revealing her hopes that she will return soon before taking off. 
With the last round about to begin, all finalists are asked to come to the backstage. Dave reveals that if Yuzu is unable to arrive in time, she will be disqualified. Miki decides its time to put things into plan and together with the remainder of the class, Yume, Laura, and Koharu, they retreat to the top of a building. First they spot Yuzu with a clown street performer, dancing and juggling with him. But when a classmate tries to get a closer look she finds she has already left.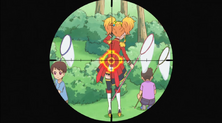 After fearing the worst, they suddenly spot Yuzu playing with some children and a butterfly. They fire the capture net but she manages to evade it entirely, running out of the path just as she spots a ladybug nearby. Dave remarks that Yuzu is comparable to a wild beast- in that she is able to evade any attack with her natural reflexes and speed. It isn't any wonder with such skill that she joined S4 as early as she did. As Yuzu decides to head back she spots a small ostrich hiding within some bushes.
(I love how rediculously cute animals look in this series).
Yuzu speaks to the baby ostrich in hopes of calming it down and realizes it has been separated from its mother. Leaving it would be impossible she decides, and begins the journey to lead it back home.
As the finals are beginning everyone starts to grow anxious. The Boney Boney Brothers (Gah they're back!) have managed to once again perform and steal the show, taking the top rank. As the group sit together in the waiting area, Yume, Laura, and Koharu try to think about how much they know Yuzu, realizing she may be out by the farm they drove past earlier in the day.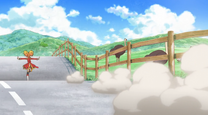 This theory is proved correct after the girls run out on the road to find Yuzu conversing with the ostrich family. She is happy they have found each other, and reveals that she was unable to not help the baby after she found it. The girls remind her that the finals have started, but Yuzu already knew about it. She then runs back to the stage with the trio following slowly. They watch as the mother Ostrich suddenly sprints past them and offers a lift to Yuzu for her help, which she gratefully accepts.
Yuzu arrives to nobody's surprise, still on the ostrich. They remark on this, with Miki promising some scolding words later on for all of the chaos she caused that day, then she hands over the suitable coord she believes to fit the summer event. Yuzu apologizes for the trouble she caused and heads to the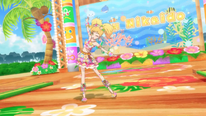 changing area, stopping as Yume, Laura, and Koharu return to wish her luck, then she changes and appears on stage to perform
August Marina
.
After the performance comes to an end, Yuzu thanks everyone for watching while Yume congratulates Miki for her hard work. She states that while Yuzu always keeps them on their toes with her random bouts of energy and change in plans, the stress melts away while watching her dance and they're reminded of how fun it can be.
It is then announced that Yuzu has won the event (no surprise there), but she really had no plans of using the first place prize, a Trip to Los Angeles to study dance there. She thanks everyone for voting for her, then passes the prize to Haruka instead.
(Lollipop-chan DX they better bring her back and make her a main....)
With that Yuzu begins to discuss how much fun she had that day. She then encourages everyone to dance along with her, because she wants to dance more. So together with her class, the other performers, and the audience, everyone breaks out into a large dance and has fun!
Which is the best thing of all, according to Yuzu.
Alright, that concludes the episode. I actually don't have much to say here, except that I really hope Haruka won't be pulling a Yu DX that was so unfair how they SO OBVIOUSLY rid of her in Season 3 and 4 just to make room for the others, even though I'm sure they could have worked it out somehow. And if you look at it, we could really use another Pop Idol, I feel like we're being overrun with Sexy and Cool, but its still kind of early in the series so I'm sure things will work out some how.
Stay tuned for this weeks episode; lets all hope together that Tsubasa will get her turn to perform!