Everyone, hi! Here I am to bring you my review of episode 18!
As a word of warning; I don't think I actually have very much to say on it. It was a nice episode, and I did thoroughly enjoy it- but it didn't really excitement in the least bit. The only thing to excite me was watching clips of the movie during the Credits...
At any rate, I will put my all into this just as I do any other! Without further-ado, lets Review-katsu!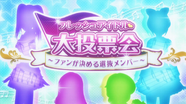 In the cafeteria, Laura and Koharu join Yume as the S4 program starts. The four announce the upcoming Summer Event, Aikatsu Island, and explain that everyone is expected to lend a hand to make it something special. But to start with, an opening performance will be held, composed of four First Year students. In order to determine the results, the Fresh Idol Election is being held.
In the hall, the trio observe the announcement message through their Phones as Laura remarks out of mild annoyance that its just a popularity contest. Everything they do that week will seal the deal on their possible rankings, so with that time off due to summer they need to work really hard. She and Koharu soon take off, both of them already having work lined up. But with Yume left behind, she tries to figure out what she can do to help herself when she notices Yuri nearby.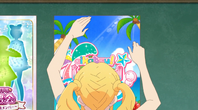 After she lends Yuri a hand in picking up the dropped posters, she offers to help put one up as well. She makes note of Yuri still working at a time like this, and Yuri explains that beneath S4, are her and three other Admin. They work for their own Aikatsu, as well as helping the S4, and doing official tasks around the school. With Aikatsu Island in preparations they need to do work all of the time lately. With nothing else to do, Yume offers to continue helping Yuri out a bit.
(Can I just stop for a moment. Was I the only person who didn't know Yuri was a Song Class Admin/Idol? I always thought she worked under Tsubasa because of their close friendship...)
At the Dress Make room, Yume is surprised to find it full of students. Yuri remarks that with the announcement they have had a plethora of first years showing up. They get to work stocking the book shelves when Yume runs into Anna- who remarks on how lucky she is to get to work with the Admin like this. Yume is unsure of what she means until she returns to the dorms, with Koharu pointing out the sae thing. She believes Yume would make a good Admin, and mentions that doing so would take her a further step closer to finally obtaining the S4 Rank.
The next day, Yume assists Yuri in handing out some papers for the event. She watches with interest as Yuri gets a few comments from the various staff she seems to have a prior relationship with.
(Relations that are sadly neglected in terms of expansion and to when they occured.)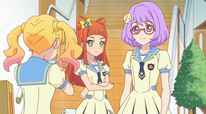 For lunch, Yume hurriedly tries to eat so that she can return to Yuri before she has to leave for the radion station they will be heading to next. Ako and Koharu approach her and bring up that everyone has been putting in their entire efforts for the Elections; Laura has been invited to perform in several locations, while Mahiru was working in several fashion shows. Ako even points out that Koharu was requested to do a bit of work for a fashion magazine, and Koharu mentions that Ako was on an evening drama recently. 
Yume congratulates Koharu with her recent work, but AKo brings up that the midpoint ranking was already posted. Laura and Mahiru are several miles ahead in ranking, and she reveals Yume has an extremely low rank before taking off (and returning a second later to offer some condollences).
(Btw, I'm pretty sure I didn't spell that right... But Ako made the cutest face when she said it~)
As the duo leave the room at the Radio building, Yuri happens to note the look of discouragement upon Yume's face. She brings it up and they head outside, sitting down while Yume reveals she isn't doing too well. Yuri apologizes to Yume for getting so caught up in lending the Admin a hand- but Yume insists she doesn't mind.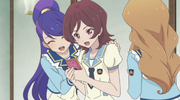 In hopes of making her feel better, Yuri claims Aikatsu can be found in the work of Admins too. Before she became one, she used to help Tsubasa, back when she was an Admin of the Bird Theater class. It was so much fun that she forgot about her own self-producing, but somehow it worked out and she managed to come in third during the Elections held that summer. This miracle led her to believe that as long as someone shows effort in their work, their Aikatsu will reach the fans, who will recognize it. 
Once more encouraged, Yume rises and promises that she will keep helping the Admins, as well as see to it that she places highly in the Rankings. She will do her own self-producing and find a way to make everything work out.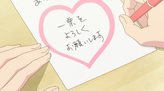 At her desk, Yume tries to think of what she can do with the latter half of the ranking session. She awakens the next day to see she fell asleep, still at her desk, when Yuri steps into her room. She came by to ask if Yume wished to lend her a hand with promo work, but Yume asks for a few minutes before then. Curiously Yuri observes the several letters Yume wrote, and questions them. Yume announces her plans for "Grassroots Aikatsu", in that she will work steadily towards a goal while attempting to reach out and see every single fan. She got this idea from watching Yuri work so hard recently, and she wrote several personalized letters.
In town, Yume stops to drop off said letters, placing her desires into them. Yuri comments on the effort Yume has made, and after Yume mentions she wished to have been able to put on a mini-live, or a handshake event, Yuri wisks her back to the Admin Room back at Four Star Academy.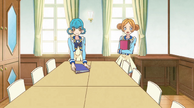 There, Yume is introduced to two other Admin: Miki Katsura from Dance Class, and Arisa Sakamoto from Theater Class. They have heard a lot about Yume recently and they wish to lend her help in achieving her desires to rank herself up. They reveal they have compiled books on both prior Live Locations and Hand Shake events the year before, but they also remind her that she will have to set up everything herself.
And so Yume is able to schedule a make-shift handshake event. She is approached by several fans and later returns to the dorms to find Koharu in the middle of walk practice. She explains how she's been working really hard, and how she was able to get a small performance venue set up, and how she even made her own posters for it.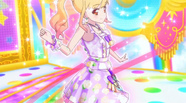 On the last day of voting, Yume prepares for her performance. Riding a bike, she travels throughout the park shouting out words to attract attention; from fans and first-timers alike. She returns to the stage, somewhat anxious after realizing the crowd she managed to obtain was massive, then changes into the Melty Flower Fairy Coord before appearing on stage, singing Aikatsu☆Step!
After the performance, an exhausted Yume collaspes onto the nearby stairs as Subaru slowly approaches. When she asks why he's there he claims that he had time to kill before work, then when she begins to cough he asks if she is feeling alright. Yume mentions that for some reason, she felt strange while on stage, but she has no idea why. He asks if this has happened before, helping her stand when she struggles getting up, but she is unable to answer, releasing her when Laura and Koharu show up. He walks away after telling Yume to get a cough drop, seemingly frustrated (as Koharu reaches into her neverending pockets for said cough drop).
Using a computer, Subaru sits by himself in a room and observes an early performance of Hime's. Suspiciously, he remarks that he knows he has seen something like this before, then notes something odd as Hime was leaving the stage. He watches as she loses conciousness, just as the video ends.
(Brrr, so mysteriously eerie~)
Eventually the announcements are held, with the ranking as followed:
1. Mahiru
2. Laura
3. Ako
4. Yume
Before ending the segment, S4 point out that Yume was able to net herself several margins worth of points from the efforts she put into her performance and work prior to it. Yume is too shocked, until Yuri approaches to compliment her job well done. Yume thanks her, but they notice how sad Koharu is. Crestfallen that she is unable to join them, she mentions that she has to work even harder and probably hasn't done enough, but Laura cheers her up by offering her some gum.
(Sour Konbu gum...)
This seemingly does the trick however, and Yuri remarks that from this point on their rivalries with one-another has gone another full step. They all have to work even harder, with the girls agreeing to this statement.
And so that concludes the episode. As I said at top, it was a good episode, and I had several things I thought was nice; such as the fact someone else is finally taking notice of the "weirdness" going on and is trying to look into these things, and the fact that Yume only managed to rank fourth. If she suddenly got thrown into first I would have been a bit upset...
The results were predictable, since it seems to tie in with the Movie. 'The performance wasn't really anything new, all that changed was the coord worn for it. I do like the song though, no matter how much they replay it.
Also, did anyone else notice the "edited" picture of Luminas when Subaru was looking at the board? I thought that was so cool how they threw in that little subtle reference.
Anyway, I'll see you guys for episode 19!