I had mixed feelings going into this episode- on one hand we got to see more of my adorable Ako-chan, but on the other... it was heavily influenced by M4, who I'm not entirely sold on yet. They're growing on me though, especially since I found a new ship I entirely support and want to see happen now.
Alright! So without further-ado and an open mind (and the fact I'm hocked up on sugar), let's review-katsu!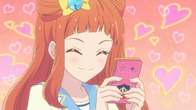 The episode begins with Yume, Laura, and Koharu thinking about how lucky they are to have gotten such a special chance to appear on M4s television program. Luck they believe to have been brought upon them from all of their hard work.
By herself, Ako fawns over Subaru and how she will finally get a chance to be with him.
The girls return to their dorms, with the trip observant of their scripts and discussing the segments they are to be included on- including talk, cooking, and singing. As they start to wonder what sort of segments they would have if they had their own show, Laura suddenly recalls that Ako will also be joining them. The girls look forward to working with her again since its been a while.
(Exactly 4 episodes in fact)
Meanwhile, Ako continues to fawn over her (possibly long-time and extremely unhealthy) crush in her dorm room. She thinks about how much she knows about him and recalls that Yume will be there, upsetting her until she decides to just focus on her plans and heads off to prepare the perfect coord to wear for the program.
(I said before and I'll say it again, I'm PRETTY SURE Ako is as close to a Yandere character that we'll get in this series... Its part of the reason I love her so much~)
(well... that and how much she reminds me of Yurika-sama~)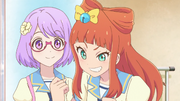 Eventually the program arrives. Yume attempts to kindly greet Ako, but she resumes her previous somewhat hostile attitude- clawing at her and telling her off. As M4 and the Director enter the room Ako is quick to try to steal attention by introducing herself to the guys (mainly Subaru-kun~) before they take off. She celebrates her success after being achnowledged by him- at least until Koharu and the girls comment on how cute she is.
Over the time before the program begins, the girls join the Director, other staff members, and M4 to practice and go over some things in the meeting room. Ako is unable to concentrate on anything but being near Subaru, until Yume catches attention by bringing up the "blank lines" within the script. Interested in her curiousity, the guys take turns explaining that it is a period for "free talk", or ad-libbing, during the program. They also explain some features about the camera, and how cue cards are held up and should be paid attention to at times.
As Yume and Subaru start up a banter (with Subaru egging on Yume once more), Ako gets angry by the display. She steps up her game when the show begins, with M4 attempting to introduce the girls and each attempt ending with Ako butting-in by bringing up various traits she knows will catch Subaru's attention.
(I'm not the only one who wanted to know what else she knows about Subaru right?)
Suddenly, Yume is reminded of her time back in Elementary School when she was part of the Volleyball team after recalling that M4 revealed a brand new song at a volleyball event. Once more this ends with Ako fuming as Yume and Subaru begin bickering.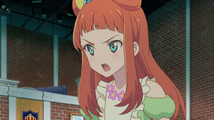 When a break is called, Ako storms off into a nearby hallway when Kanata stops her for a moment. He comments on how transparent she is, having such blatant feelings for Subaru; but Ako plays ignorant and claims not to know what he's speaking of. He suggests that she should be serious and treat them all with respect, as they are all equals on the stage. Ako brushes him off and continues on her way.
(and so the BEST straight shipping in this series is born: Kanako!)
The show eventually resumes, now in the cooking portion. Asahi explains that while normally M4 split into teams to cook against each other, they will partake as judges while the girls split up. They draw lots, determining that Laura and Yume will go against Koharu and Ako. Ako thinks through her "database" and determines they should make egg dishes, something Subaru likes. With nothing to go by, Koharu allows Ako to take charge of what they make. Kanata expresses concern over her decision and watches as Ako lovingly cooks, stopping to lend Koharu a hand after she burns part of the egg she was cooking.
By the time the two teams finish the girls present their dishes, with Laura and Yume preparing sushi, and Ako and Koharu making an omelette and egg sandwiches. Both dishes are enjoyed by the guys  (Asahi and Kanata chose red, while Subaru and Nozomi chose blue; for those curious), and it ends in a tie between the teams. While Koharu is relieved, Ako is beyond steamed that Subaru prefered Yume's dish to her own.
Once again Ako is approached by Kanata, who once again critisizes her. She is blinded by love for Subaru and refuses to achnowledge others, or the importance of proper communication and cooperation between Idols. He asks why she even became an Idol to begin with (to stalk-I-I mean, meet Subaru-kun of course~) and leaves her alone.
Ako returns to the waiting room to find Koharu sitting by herself, having been waiting for her. She apologizes, earnestly convinced it was her fault they didn't pull off a flawless victory, but Ako tells her it wasn't a big deal since she failed to properly think things through. All they can do now is just prepare for the final portion of the show. Koharu is nervous and anxious, and seeing this, Ako smiles before suggesting she take a deep breath while imagining herself on stage, performing just like any other time. She is delighted to see her advice work, then watches as Koharu takes off for some fresh air. 
It's then Ako spots something and a thought dons on her; she sees each of the scripts spread before her and notes how different they are. Yume had really put in a lot of effort into her script, taking notes and details on a variety of things, while only Ako concentrated on Subaru. She barely put in any effort.
As the other girls suddenly arrive again, Ako pretends that she wasn't nosing through the opened book, although Yume is able to tell she looked through it. She is flustered over all of the details she scribbled down, but Ako tells her not to bother, reminding them that its time for them to go out and take their turns performing. Ako decides that she will go out there and perform as a serious Idol and for nobody but herself. She changes into a coord and performs
Marina of August.
After her performance Ako managed to blow away M4, seeing how good of an Idol she is when she's actually serious, and in the hallway a bit later, Ako is approached by Subaru. He compliments her and tosses her a bottle of water as she prepares to get something from a drink machine. Instantly Ako is swayed with love and quickly trails behind him, stopping upon running into Kanata again. He compliments her, but once again Ako gets a bit flustered before tailing Subaru once more.
Alright guys, so that's Episode 17. I LOVED IT. I was so happy to see other facets of Ako's personality and it was awesome, we also got to finally "formally meet" Kanata-kun (who ties for my favorite M4 member alongside Asahi), and we learn some more about Subaru.
I felt like I fell for Ako's charm all over again as she chanelled Yurika-sama. Her "meow/nya" tic instantly won me over, given my love of cats, and watching her sweetly charm Koharu and get minor ship tease with Kanata-kun was icing on the Ako-chan cake!
In terms of the song; I actually really liked it. I liked the singing, liked the stage. The one, ONE minor complaint is that while I liked the voice used to sing for her, I wish it was just a twitch closer to sounding like Ako. I wasn't really bothered by the voice much as a whole, but with everyone complaining over it- I think I'm actually more irritated over that than a tiny preferencial opinion.
Anyway, that'll do it for this episode! I'm kind of excited to get to know Yuri-san in this weeks episode, so I'll see you guys then!