Hoo boy... Sorry this one is almost a week late- I literally had to force myself to sit down and watch this one because of my low expectations and extreme frustration for the change in plans later in the episode. However, I tried to keep in mind that it wasn't fair to judge the episode without even seeing it. If they handled it well-enough perhaps I could be less bitter about it.
In the end, I thought the episode was good. I'm still disappointed by how things happened, but I'm hopeful they'll also make it up to Laura at some point.
Without further-ado, lets review-katsu.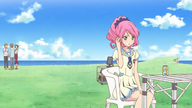 The episode begins with Laura on a job site, working on the newest commercial for the Miracle! Felici-Taiyaki. She insists that she doesn't mind being there, but as she chats with Kaoru one of the staff run up to them to inform them that something bad has happened. As it turns out, their equipment was faulty and they were unable to record anything. Laura gives Anna a call (with Yume just SOMEHOW there) and informs her of the issue. She isn't very sure she'll be able to make it- but she reconsiders, promising to be there before they end the call.
Kaoru comes to Laura, apologizing for what has happened. She offers to just wait for another day to record their commercial, so that Laura can return to the school, but Laura refuses. Just then the replacement items arrive and they prepare to get things fixed.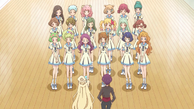 Back at the school, Anna and Yume return to class to reveal to the students of the possible problem on their hands. She decides thinking of the worst-case scenerio is all they do, but two of the students are sure that even without Laura, Hime would do just fine on her own. They are instantly scolded by Hime for such thought, as she joins them in the room to explain how important having a partner for Summer Fest was. They decide that if Laura fails to show up they will just use the second best student in class: Yume.
(Strike 1 in the "they messed up" department. Yume was never mentioned as being second best, and yes she has improved over the episodes, does anyone believe she REALLY already shot up to second place?)
(Also, did anyone else notice Hime didn't seem to use her "normal voice" in this episode? At least until the way ending of it maybe? I kinda forgot she could sound deeper voiced when serious situations arised, so I was caught off guard XD)
Eventually the filming has come to an end. Everyone thanks each other for working so hard, and Kaoru offers to drive Laura back to Four Star Academy instead of making her wait for a ride to show up.
Meanwhile, Hime, Anna, and Yume are having their meeting. While Hime and Anna discuss their plans, Yume is unable to concentrate, thinking about Laura and how she isn't there and how she also put in a lot of hard work the day before, preparing for this. She doesn't think its fair and runs outside to wait for Laura, much to their surprise.
(You know, I'm glad they did this, because if Yume had been really happy about performing with her beloved Hime, I would have been mad she didn't feel remorse for Laura, someone she supposedly cared about too.)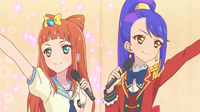 While outside, Yume hears the audience within the school cheering. She notes that the Theater class is starting out for Summer Fest, and not much time remains for Laura.
Inside, Ako and Tsubasa quickly win over the audience, with Ako acting (ultra-kawaii) nervous and shy, while Tsubasa plays the role of the supportive upper-classman. They go on to perform afterwards.
(Unfortunetly I don't have any more pictures, not too many were taken for this episode.)
From this point on things worsen for Laura, first with their vehicle being stuck in traffic due to an accident up ahead. She runs out and decides to take a train to get to school; only to find out its been delayed by twenty-to-thirty minutes. Sadly she resigns herself to accept she is unable to make it and gives Yume a call to inform her this won't be happening.
Yume denies and refuses to take Laura's spot, explaining that because she works so hard she can't just let her efforts go to waste. It can't be helped however, and Laura insists that it isn't a big deal- because she also knows how hard Yume works, and has faith in her to put on a great performance. Yume remains doubtful, until Laura assures her things will be fine by sharing a Baton Pass with the use of their hands and voices through the phone.
Encouraged, Yume runs back to Anna and Hime. She is ready to do this and they get right to training, where she keeps pushing herself to improve and continue, having channeled Laura and imagining her there with them. After they finish, Hime remarks on this, saying it felt as though Laura was with them as well.
When the show arrives, Anna announces the change in programming, revealing that because Laura can't make it, Yume will be taking her place. As Yume and Hime leave the room they find a few classmates out in the hallway, with a banner they worked on for her (originally Laura, as shown by the pasted on picture). They wish her luck and Yume walks further down the hallway to spot Mahiru (leaning against a wall with sass), who also came to wish Yume well, in her own unique way. Yume accepts her words and she rushes to catch up with Hime. 
Together they change into their pre-selected coords, and appear on stage to perform Start Line!
(In terms of the performance I thought it went great. I love the song, their coords, the stage, naturally, but I also really liked how Yume and Hime sounded together. Although I was upset it wasn't Laura, I did enjoy it.)
Just as the performance comes to an end, Laura arrives back at school and watches with admiration, seeing how well everything went. She is very happy for Yume, and the Summer Fest comes to an end with the winning class revealed to be Song Class, led by Hime. 
In the hallway, Mahiru and Koharu chat with Yume until Laura joins them. She teases Yume, saying that she would have helped Hime won by a landslide in comparison to how Yume did, then asks that she shares her month of free lunches with her. Yume agrees and embraces (glomps) Laura, happy to see her.
(I thought that part was precious, anyone else?)
In his office, Hikaru watches the ending portion of the S4 segment, glancing at a picture nearby while wondering what Yume's true talents may be...
And so that concludes this. As I said, I did enjoy the performance, and I was happy to see how well they handled everything. Although Yume got to perform with the Idol she adored, she was very humble about it and tried to make things right by encouraging Laura- just like a good friend would do, in hopes she would get there somehow. While it failed (and the producers obviously made sure it WOULD), when you think about it, it isn't entirely Yume's fault, because she can't control what happens to them. She was just doing what she was meant to do.
That still doesn't excuse the beginners luck she has though. She has it WAY WORSE than Ichigo ever did and that much I do resent. Main or not, they should find a way to balance things out between them, the way Aikatsu first started out originally. Ichigo, Aoi, and Ran were balanced for a good while, and when the next set of Idols came they too were also balanced out. It wasn't until late Season 2 when the balance went out the window.
Anyway, enough whining from me. While I hesitated to watch this episode I was able to get through it with no problem. I assure that everyon else will be able to as well.
Super-excited for today's episode! I can't wait to see adorable Ako-chan in her second major appearance!