Sorry for the lateness everyone, it honestly wasn't my fault. I'm not even sure if anyone would still be interested in reading this one since a new episode aired today- but regardless I'm going to stick with this!
Gosh it feels like it's been forever since I last did one...
Without further ado, let's review-katsu!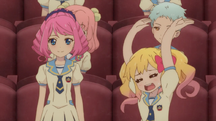 One day it is announced that an aptitude test will be held, as the first years have been there for three months now. Afterwards, the top scoring students will get the chance to perform alongside their respective S4 member.
Eventually the results are read out in the Auditorium. With Yume hopeless when Laura is revealed to still have the top score in Song class.
Besides Laura, the others to claim the first spot are Mahiru, Ako, and a (super adorable, better become a main or heads will roll) new girl, Haruka.
Hikaru explains that the girls will each perform with an S4 member, and on top of that also gain a special coupon if her unit wins, good for free lunches. Each girl is asked to give a few words to the audience, with each of them proclaiming her eagerness to win- except for Mahiru (or should I say, Madam Mood Killer), who informs everyone that she will defeat Yozora, effectively alarming everyone.
After the announcements conclude, Laura, Yume, and Koharu return to the dorms to chat over the recent news. While Yume is still bummed, she supports Laura, although Koharu is worried over Mahiru.
Meanwhile, the Kasumi sisters enjoy tea in the Cafeteria while surrounded by several classmates. Mahiru isn't very friendly with her sister, who is practically gushing with excitement, until her phone goes off to inform her she has to leave for work.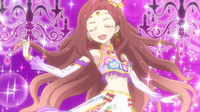 Mahiru requests joining her, and together they head to the filming location, where Yozora will be showing off a brand new dress by Romance Kiss and performing in it. Mahiru is amazed by the performance, but feeling down, she leaves a note and takes off, returning to school instead of staying.
While Yume pigs out on food, the girls spot Mahiru with a drink-food pack and comment on her lack of real food. She claims it to be enough and they invite her to join them- which she initially refuses. She sits with them and Koharu brings up her worries, with Mahiru admitting that after watching Yozora a bit ago, she feels like she should give up. But at the same time she knows that isn't the answer, since all of her effort would have gone to waste. With that, Koharu asks if there is a real reason for her to be so competitive like this.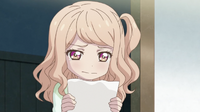 Back when they were little, Mahiru and Yozora loved each other dearly. They did almost everything together, and often took turns on their drawings- with Yozora making a design and Mahiru coloring it. But one day, without notice Yozora explained to her parents her dream of entering Four Star Academy. Before she knew it, Mahiru was left alone, abandoned and feeling betrayed.
To show up Yozora she must work even harder and she knows it. She apologizes for ranting like this to them and takes off to get ready to train. Still concerned, Koharu expresses concern over her lack of a smile once more.
With the next few days passing by, Koharu's fears worsen as Mahiru continues to train. She is sure that deep down Mahiru really doesn't want to defeat Yozora in the context she makes it sound like.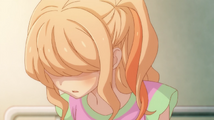 As Mahiru continues training, she suddenly feels light headed and faints. When Yozora is informed of this she quickly runs to the infirmary to speak to her sister, who is being gently scolded by the doctor for neglecting her health needs.
Upon arrival, Yozora is met with hostility. She angrily tells her off, upset that she screwed up so badly. Yozora tries to remain calm, but Mahiru states that she doesn't care about her health. The only thing that matters is defeating Yozora and nothing else. She then demands that she left her alone, and hurt by her sisters cold words, Yozora slaps her.
Yozora, shocked by what she did attempts to speak to Mahiru. But she isn't in the mood, instead running out of the room. Before Yozora is able to find her, the Doctor stops her to mention Mahiru forgot her shoes in her hurry. She reminds Yozora of how simiiar they are, stating that she ended up overworking herself when she first joined as well.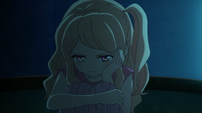 After telling Hikaru that she no longer wants to perform the following day, Mahiru grumpily returns to her dorm room to sit by herself. To her surprise, Koharu has shown up to try to speak to her, but she coldly tells her that the recent rumors are true, in that she won't be performing any more.
In hopes of getting her to open up, Koharu tries to reach out to Mahiru by saying she knows the truth behind her words from earlier. She wants Yozora to achnowledge her, as a real person and not just her beloved sister. She wants to be seen by her again, and for her to realize how much she is hurting. With the final nail in the coffin hit, Mahiru quickly snaps at her and demands she leaves her alone too
Sadly, Yozora sits outside later on, at the Tea Garden. She observes a picture before being joined by Hime, who expresses concern that she could get sick sitting out there so late. Yozora claims it doesn't matter since she won't be performing anyway, but while wondering if perhaps she loved Mahiru wrongly, Hime quickly cuts in to say there isn't any wrong way to love someone. She asks if Yozora may have something to tell Mahiru, and suggests she does so. Yozora, feeling better thanks Hime for speaking with her and quickly takes off.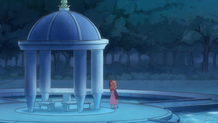 Outside, Mahiru has went to the Gazebo in hopes of calming down a bit. She continues to think about what Koharu said before noticing Yozora has managed to find her. She expresses surprise to see her, but cooly asks why she is there, and why she isn't wearing her S4 attire outside of the dorms. Yozora claims it doesn't matter though, because she is her sister first.
Mahiru remains distant until Yozora reveals that she kept something precious all of this time. To Mahiru's shock, she watches as Yozora holds up the picture she threw away, back when she found out Yozora was coming to the Academy. Yozora explains that it is their precious memories that gave her strength to continue on, and the picture will not be finished until she colors it- just like in the past. She was so happy when she found out Mahiru got accepted to the school, and was looking forward to them playing together again.
Such words touch Mahiru and she sadly starts to apologize for being so mean lately. But before she finishes, Yozora is quick to embrace her sister.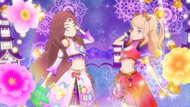 With their bond restored, Yozora and Mahiru make ammends and reinstate their performance with Hikaru.
Eventually the performance day rolls around, with Haruka and Yuzu going first. Once they finish, Mahiru and Yozora begin to share a few words of encouragement with each other and they change into their chosen coord from Romance Kiss, then perform Mahiru's song, "Summer Tears Diary".
After the sisters finish performing they retire to the nearby hall for a breather. They both had so much fun, and Yozora thanks Mahiru for working so hard, while Mahiru admits that she was able to enjoy herself, and honestly didn't realize just how much Aikatsu was before then. However, she still wants to surpass Yozora some day, and seeing how happy she is, Yozora supports her dream and wishes her luck in catching up to her quickly.
As the sisters continue to talk, it is revealed Mahiru finished coloring the picture while they waited...
And so that concludes the episode. I didn't really have much to say, but you can take comfort in knowing the episode made me cry a few times. But I won't go into detail about that because that would make everyone uncomfortable XD
Anyway, in the end I'm actually happy that I wasn't disappointed by the episode. If you remember in the last one I wasn't looking forward to more drama- especially since Mahiru seemed to be fine at the end of the episode. But I see that she had a real, valid reason for feeling so betrayed and hurt, and I respect it. It wasn't a form of shallow sibling rivalry at all like I first assumed; given how HARD they implied it.
I was also looking forward to today's episode.... until it was spoiled for me and showed Yume getting Laura's performance. I am really upset, but I won't be able to watch the episode for a few days probably, so hopefully they handled it well enough that I'll reconsider. We'll find out then!