Alright, so here we are- not too long of a gap since the previous one. I wasn't too concerned or worked up about this episode, in fact I was kind of excited to learn more about Mahiru. I sort of called everything though, nothing really surprised me or gave me a WOW factor sort of feel, but I enjoyed the episode none-the-less.
Without further ado, lets Review-Katsu.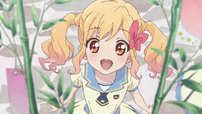 With Tanabata approaching everyone has began to leave behind wish papers. The trio, Laura, Yume, and Koharu decide they too will make some after some encouragement from a (magically appearing for a cameo this episode) Anna.
Together they read over their papers, with both Yume and Laura wishing to make it into S4 some day- and Koharu proclaiming her love for Yozora-sempai!
Just kidding~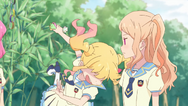 It's then the girls spot Mahiru approaching, and they offer her a paper and pen to make her own wish. Stubbornly Mahiru refuses, only to point out she doesn't even know Yume. After being introduced by Koharu to both her and Laura, she takes off with Koharu admiring how cool she is. Yume finds herself curious over Mahiru's wish however.
In the Cafeteria the girls enjoy a small break while watching Yozora's Fashion Show. Miss Romance and Yozora take out a fan letter and read over it, giving the young author some advice on how to search for inspiration in terms of fashion, then end the program with an announcement for the upcoming Live event. Whoever can make an outfit befitting of the "Asian Heroine" theme for Romance Kiss this summer will get to perform in the outfit on stage. Yozora points out that the decision will be solely based on the coords quality and reveals that she is also one of the judges before pointing out a disclaimer.
Encouraged to enter, Laura, Yume, and Koharu head into town afterwards in hopes of finding some inspiration. But when Laura points out Yume is going about it the wrong way, they are interupted by Yume's growling stomach, and decide to stop for a break before they resume. However, their plans are sidetracked after they spot Mahiru lingering outside of the muffin shop.
As they wonder what she is up to, a blonde haired boy approaches and is able to easily read Mahiru, introducing himself as the legendary detective Pinky Cat, really her and Yozora's brother, Asahi Kasumi. Koharu is amazed by meeting him in person like this (to the point we must wonder if she loves the ENTIRE Kasumi family), and Asahi quickly deduces who Yume is, as Subaru often speaks of her. 
(I adore cats. I adore Pink. I adore Asahi and his pinky eyes!)
(....Ehem.... moving on....)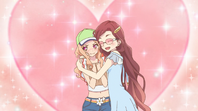 As Yume remains utterly amazed by several of these things she is informed of within the span of two or three minutes, the girls are once again distracted upon hearing Yozora- who excitedly wastes no time to cuddle her younger sister, despite her pleas not to. Yozora suggests they all sit down for some tea since they rarely meet up in the same place, but Mahiru refuses, stating she has something else to do. Yozora tries to get her to reconsider, but Mahiru grows frustrated and takes out a few stone tiles.
After smashing them with the side of her hand, Mahiru is able to calmly walk off- leaving the trio confused by the display. Asahi reminds Yozora that she has work to get to anyway and hands her a muffin before they both take off, leaving the trio to chatter over the family while they get their own snacks and have a seat. They discuss how their father is a famous CEO of an Apparel brand, while their mother is a world-renowned Fashion Model, Yozora is also a famous model, and Asahi has a lot of acting experience under his belt.
(So basically Mahiru is the runt on the end without her own glittering light. Ho Hum, nothing new. As I said, I basically predicted this. Not to say that I don't support Mahiru or anything though.)
Eventually the contest has concluded and Yozora's Fashion Time arrives for her to announce the winning entry. While they have received several, only one was deemed to be the top of the top, one by the name of someone "Lunch". The girls mope over not winning, but when Mahiru loudly cries out they get up to see she is also watching the program. She attempts to cover her excitement but quickly Koharu deduces she must be Lunch, because her name, Mahiru sort of sounds like that word when pronounced in english.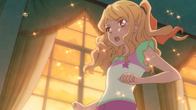 Mahiru admits that she is guessed right, stating that she wanted to win by her own merit- and didn't want people to think she was chosen due to their family relation. She also wishes to surpass Yozora and feels this has taken her a step closer to that. She then excuses herself to get to training in hopes of matching her unbeatable sister- although Yume attempts to tell her that she doesn't need to do things like this.
With the time remaining until the Live, Mahiru works and trains tirelessly. When the Live rolls around, Yozora expresses a moment of surprise to see her, but recalls Mahiru's nickname of "Lunch" when they were younger. Asahi had been breakfast and herself dinner. However, Mahiru doesn't share the sentiment and continues to brace herself for the upcoming event as she heads into her waiting room.
It's then Yume, Laura, and Koharu arrive with a present for her and some words of luck. Mahiru is curious as to why they have shown up, and they reveal the cake they made for her (a bit messy, as Yume ran the entire way there). While the girls are discussing the cake and how good it is, Mahiru is unable not to surpress a small laugh as they bicker, then Yume remarks that she looks much cuter when she is happy. While observing the ccake it dons on her that since entering the school she has been smiling much less.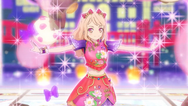 With this revelation she continues to smile and tries a bite of the cake before going out to change into her newly designed contest winning entry coord. On stage she performs "Summer Tears Diary" (while I have a snack, being tempted by the several sweets surrounding her). 
After the performance comes to an end, Mahiru is approached by the trio, who compliment her job well done. She listens as Yozora, from the stage congratulates her sister and wishes her a bright and shining future as an Idol. Mahiru then changes and heads back to the dorms with the girls, noting that it has always been this way. As she continues to push herself her sister remains the same, calm and full of smiles while standing ahead of her.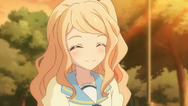 Yume claims this makes her amazing though, because she pushes herself even harder than the last time in hopes of surpassing or catching up to her as she tries to complete her lofty goal. They encourage her to keep on going and Mahiru agrees, stopping to ask Yume if perhaps she can borrow a wish paper and pen now, but not to right her wish, but her goal instead. 
Meanwhile, Yozora decides to leave the S4 Tea a bit early to do some training. As night approaches she changes attire and starts to run, stopping by one of the bamboo trees to find Mahiru's wish paper. She takes a moment to observe it, then continues on.
And with that we conclude. As I said, I enjoyed learning about Mahiru in this episode, but in this weeks episode it seems to be a continuation of this "mini arc", when the Kasumi Sisters perform on stage.
Did anyone else notice the animation quality here seemed to have improved again? I can't tell if its another one-shot like it was about 10 or so episodes ago when I said that the last time, or if it'll stick this time. However, I felt like Asahi looked a bit "off" at certain positions or angles, no idea why.
I loved Mahiru's Idol Aura. It's so cute and girly, which I didn't expect at all until I learned about her. She has a tendency to flip between hot and cold and I was really hoping the "Normal" would stick after this episode- but as I can tell with episode 15, that might not be the case at all. I do like Mahiru but I'm not sure if I feel like keeping up with her constant switching.
Meanwhile did you guys SEE those cute green and blue haired girls?! I quickly zoomed in on them with my "new main characters spotted" radar. But only time will tell if they play a part in the series or just the episode!