Alright, here we are... episode 13. I was a bit anxious over this one, but I won't get into that. If you haven't seen the episode yet, I'll say what I say in situations such as this before you do, "buckle up".
Also, there seems to be a lack of pictures for this episode- so I apologize if its a little lacking or anything, it was a bit neglected by the wiki it seems. Keep in mind that dirty jokes are also forbidden on this wiki (which just made reviewing this episode WAY harder for me in all honesty...), so please don't make any.
Without further ado, lets reviewkatsu!
The episode begins with a bit of narrative. Yume explains that everyone is preparing for the early release airing of a film the school worked on. Everyone got to partake in it by lottery drawing to determine who got what roles, and Yume just happened to land the lead role. Before the film starts, Anna and Jirou, the Director introduce it with some words of their own
(Everyone remembers Jirou-san right? the overly excited, kinda scary director?)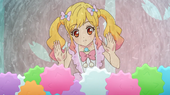 The tale begins with the tiny little fairy, Yume, out in the Garden behind a house. She searched and searched but was unable to find her beloved sister, Hime. Curious, she approached the house and wandered inside, wondering if perhaps her sister came in. She is quickly overwhelmed and amazed by the several sweets and objects within the home, and takes her time to play around with them all. She hides as the owner, Yuzu, shows up with a stack of pancakes- but realizing she forgot to make tea she runs off to fetch some.
In this time, Yume continues to explore by playing on the plate of food, when suddenly, a glow forms and her wings suddenly appear!
With delight, Yume flies around, but as the human returns, she quickly apologizes and flees, only to land on a Yuri, a frog. The irksome frog brings up spotting another Fairy recently, who had been taken by the Demon Lord. When Yume realizes this is her sister she requests knowing where he lives so that she can save her, and Yuri points out the direction she must go.
Yume sets out to save Hime, only to run into the Demon Lord's three Generals, all of whom refuse to allow her to pass unless she can take them on in a battle. Frustrated, Tamagoro, the supposed leader starts with some word games. He demands Yume only lists beautiful things:
(Key: Tamagoro, Yume)
Top Idol (aidoru) - Ruby (ii)
Image Girl (Imeeji Gaaru) - Answering Machine (rusuban denwa)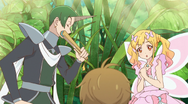 As Tamagoro chastises Yume for choosing something that isn't beautiful, someone suddenly shouts out the word "Rouge" and makes his appearance, revealing a princely fairy. Tamagoro accepts this, but with the word provided for him (yu), he struggles to come up with a word. The princely fairy, Nozomu points out that the word he is thinking of is a fantasy creature, Tamagoro suddenly comes up with "Unicorn", but realizes he has lost, causing the trio to vanish.
Yume and Nozomu formally introduce themselves to one-another and Nozomu suggests she turn back and leave. Yume refuses, saying she must save her sister and Nozomu accepts this, requesting that she allows him to join. She agrees and they take off, only to run into a rotund human Princess, who is speaking to a rock.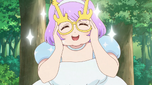 Curious, they call to the Princess and she explains that she is unable to see anything without her glasses. She happens to spot them and places them on, only to realize she was speaking to a couple of fairy. She introduces herself as Koharuderella.
(and in an adorable moment of breaking the story, we see just how flustered Koharu is to be witnessing this scene).
She requests they help protect her from her older sisters, who are very cruel. But before she can say anything else, they suddenly appear. Yume demands they leave poor Koharuderella alone- but as it turns out they had it all wrong. The sisters aren't mean at all; they just love to pamper and stuff their adorable younger sister.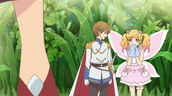 The duo is surprised to see there isn't any real harm being done, and they step aside as a large horse suddenly appears, revealing a Prince riding it. He has found someone's glasses and asks the Princess if she knows anything about them. She recognizes them as her own and approaches him, taking them as he asks whose glasses she happens to have on. Koharu removes them and goes to put on her own glasses- but as soon as the handle snaps off, she sadly realizes she has become too big to wear them. The Prince, Asahi decides to take off afterwards, allowing her sisters to comfort her even further. 
(And Yume just happens to make the cutest face in Aikatsu Stars history)
Meanwhile, the Demon Lord attempts to get what he wants from Hime; her wings. However, he is well aware that she must be filled with overwhelming happiness in order to make them appear, and he attempts to sway her mood, offering her a delightful tea party, along with her most favorite food, super-spicy hot curry. Hime begins to struggle but she remains stubborn and refuses to allow herself to fall for such tricks.
Yume and Nozomu continue on, only to run into the Generals again. But when they are unable to agree over who should go next they attempt to draw lots, taking off after one of them wins and not realizing they didn't actually do battle yet. By now Yume is worn out but she is distracted by a red riding hood Laura, who is speaking to her grandmother, laying on a hammock in the middle of the woods.
As it turns out, her grandmother has lost her "rockingest" glasses (it suddenly dons on us just who happened to find those glasses) and is unable to see without them. She asks Laura to come closer and she reveals herself to be Anna, the rocking wolf. As the duo resume walking, Laura and Anna suddenly get into a rock battle with a pair of invisible guitars. They also happen to find the Evil Queen, Ako, angrily chasting her mirror after it insults her, and walks right past the Generals who appear for the third time.
By now the Demon Lord is growing frustrating and has released his most evil of all presents; a super comfty, soft, relaxing bed!
Hime, who enjoys napping very much, struggles to resist. But by now the Demon Lord is in no mood and angrily pulls out his sword, preparing to finish off such a useless, wingless fairy. But just then, Nozomu and Yume arrive. As Nozomu does battle, Yume approaches Hime, who is amazed to see her wings have appeared, and by surprise, her own wings form. The girls quickly attempt to escape, but after they find Nozomu struck by the Demon Lord they grab the spice jar from earlier and throw it on the Demon Lord to momentarily blind him. Nozomu gets up and attacks the earring worn by the Demon Lord, causing a ruby gem to fall out from the slot and onto the floor. To the sisters surprise, the Demon Lord shrinks, revealing himself to also be a fairy, just like them and Nozomu.
In this time everything returned to normal. The girls got to know Nozomu further, and Yume even showed him the amazing human home she found. To their surprise, they are joined by both the Demon Lord, and Hime, who reveals that a surprise celebration is being held. Yume is confused by this, and Nozomi reveals he is the true prince of M4 Kingdom, and requests Yume's hand in marriage, admiring her single-minded determination to save her beloved sister. Yume is quick to accept and they begin to celebrate, with the Demon Lord keeping to himself.
Just then Yuzu returns, but as it turns out, Yuzu isn't a bad human at all, she's actually a friend of Hime's. Together everyone lived happily ever after.
The girls leave with the movie over, and Yume cries her eyes out with Laura questioning why that is, given the happy ending. Yume claims she is simply happy because it turned out so well. Yume then spots Nozomu and Subaru and gets up to thank Nozomu for his hard work and effort. He compliments how well she did, going on to tease Subaru a bit after Yume, Laura, and Koharu run up to chat with S4.
(See this I didn't see coming at all. Does Nozomu suddenly like Yume? Does Subaru like her or something? This is stuff I didn't want to see AT ALL so I really hope it was nothing more than some playful teasing...)
As this is going on, Asahi and his fellow M4 partner, Kanata make conversation. Asahi remarks not seeing Kanata at all and wonders if he was in the film, expressing amazement as Kanata reveals he had THREE roles (although we only learn of two), the tree standing in the field wearing headphones behind Asahi, and the magic mirror.

All and all, I enjoyed the episode. It was plenty funny, and normally I don't overly enjoy the various Drama or Movie based episodes (except for Vampkatsu and the Aikatsu Diner drama). Ironically the part I thought I'd have to be anxious over was nothing more than a bunch of goofiness- but the ending part upset me a little bit, given my anti-romance thing. I LOVED the part with Asahi and Kanata though.
The only character who didn't seem to get a role in this was Mahiru (who gets the next episode dedicated to her), so I'm overall happy so many people got to appear.