Alright people, here we are for episode 12. In terms of going into the episode I wasn't excited nor uninterested. I guess you could say it was filler, but it was nice to see Tsubasa star in an episode again'.
Without further-ado, lets review-katsu!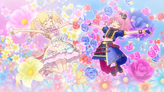 Laura and Yume are brought onto the stage at a shopping district to perform for the customers. Here, we get to see the beauty behind the Flower collection as they perform their new duo song, "Honeybees Kiss".
(Opinions on the song at the bottom)
After a long day of performing the duo return to the campus and begin to discuss how strict Tsubasa is in regards to the rules. Suddenly a sound and a pair of glowing eyes distracts them, causing the girls to shriek before making a run for it. But upon arrival they are greeted by a less-than happy Tsubasa, who goes over how much she knows about them before pointing out they were late. They try to explain what they saw but she doesn't buy it and assigns them cleanup duty before bed.
As they tiredly work the girls are approached by Yuri, who deems their punishment to be good. She proceeds to explain why that is, stating that while stern, Tsubasa is well-loved and admired by the other students.
(Yuri also claims another victim of her special seminars... of cuteness!)
Tsubasa joins the girls and pleased with their work she hands them some drinks (ramune, for anyone curious) and has them sit down. She compliments their hard work and asks that they think more responsibily the next time before sending them to bed. 
As Yume and Koharu prepare they discuss what happened, with Yume admiring Tsubasa even further. However, the following morning they receive a surprise inspection, and when all of the girls lined up fail Tsubasa decides to punish them again by assigning them to clean the large bathing room. The girls clean for some time when another schoolmate approaches to announce something is going on.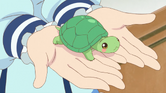 (Uh Oh, kawaii turtle alert~)
Yume and Koharu find Laura and a few other girls observing the scene before them. Tsubasa has caught a student with a (teeny-tiny itty-bitty cutey-wutey) turtle and informs her that pets are forbidden. The girl understands but asks her let it slide, due to depending so much on her beloved pet, Hyuuri for emotional support. For a second Tsubasa is phased- only to quickly remind her of the rule and tell her it has to leave. She walks away as the girl is reduced to tears (as was I). Shocked by this, Yume's admiration begins to crumble.
Meanwhile, two students are outside walking when they catch sight of the same glowing eyes from earlier. They are also sent running with a terrified scream.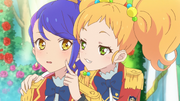 As this drama unfolds and word begins spreading throughout the school, S4 sit down for their usual tea party. Right away the girls bring up what they heard recently, and Tsubasa claims it was entirely justified because the girl must learn to depend on herself since she is alone anyway. The others claims she should know how it feels however, and begin to tease her a bit until another girl shows up to inform them of the recent rumors reguarding a strange "creature". Deciding to put an end to them Tsubasa calls an assembly, asking for all of the students who aren't busy that afternoon to meet her out on the field.
(I love how she said "comfortable clothes" and yet they all show up in their exercise attire, EXCEPT her.)
With everyone split into groups of five, they head around the campus in search of any strange creature. Tsubasa is sure everyone is just letting their weaknesses getting the better of them and continues to insist upon this some time later. By now Koharu is worn down and unable to go any further, so Tsubasa instructs Yuri to stay with her as she, Laura, and Yume and continue on.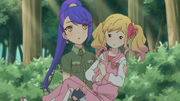 As Yume attempts to speak to Tsubasa the girls suddenly hear the same sounds from before. Laura runs up ahead to try to find the creature as it flees, with Tsubasa trying to command her to stay back. Yume gives chase- only to trip suddenly and hurt her ankle. She tells Tsuabsa to leave when the mysterious creature arrives again, but Tsubasa refuses. She sits Yume down to check her ankle when the mysterious creature comes out to reveal itself. To their surprise, its an owl, who Tsubasa identifies as Hoo-chan.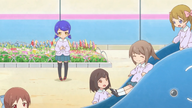 As Yume realizes Tsubasa knows the owl, Tsubasa explains that when she was growing up she had been very shy and lonely. Her parents enrolled her into an Idol school in hopes of encouraging her to open up and grow more boldly and in this time, Tsubasa realized she had a passion for singing. However, after meeting Hime she grew to love Acting, realizing her dream of being the best song idol was impossible, something she already told Yume (back in episode 3). Despite that she would find herself feeling sad and lonely again, and during this time she met Hoo-chan. She spent every day speaking to the owl, until someone caught her and forbad her from seeing her or even feeding her any more. This is why she tries to be strict with the students, to prevent them from feeling the same loneliness that she holds from time to time by strengthening their characters. 
As the girls start to wonder why Hoo-chan reappeared after so long, they see that she has her own family now. Suddenly, Laura, Koharu, and Yuri reappear. They grow uneasy spotting the owls before them, but Yume insists it is okay, going to look at Hoo-chan and her family- only to look with shock to see the fluffy owls before her now thin and ghostly. She is alarmed until Tsubasa explains Hoo-chan has a tendency to flatten herself whenever she is surprised.
Back at the school the girl from earlier approaches Tsubasa to reveal that she learned what she went through and has decided to take Hyuuri home that weekend. Tsubasa compliments the girls ability to remain strong now and goes on to meet with the others of S4 for their tea party. The girls bring up the new rumor now, with Tsubasa clarifying that the girl came to the decision on her own. However, she has come to realize that she also has precious friends now, and isn't lonely like she was in the past, happily joining them.
Alright, so that does it for this episode! I'll just go through my thoughts in order, starting with Honeybees kiss. I really liked the song :3 I saw some complaints on it and that made me worry a little. I did enjoy seeing the coords in the anime, the special appeal, and the performance too. However there was one thing that perturbed me. The song is clearly a collab between Laura and Yume, Cool and Cute, but I honestly didn't get that vibe at all. I feel like you could take any two idols/types and get the same effect. It was a great song, but it felt like it had an identity crisis.
Next, as I said above, I was happy to get more about Tsubasa. I really admire her as well so I was a bit shaken with her stern attitude regarding the turtle as well. I love animals above all else, and I was hoping she would have let it slide in the end, so when she actually didn't I was left with mixed feelings. I can see that the girl has learned from this and will earnestly try her best now, but emotional crutches can't be rid of as easy as that.
Okay, so those were my two pieces on the episode. I enjoyed it but I was left with mixed signals.
See you next time when we review-katsu together!