Well first off, I'd like to say that nobody even bothered to pay any notice to the special features I worked hard to include on Episode 10. I'm severly disappointed by this since I though it'd be something everyone could enjoy together...
Without further ado, lets Review-katsu.
The episode begins with Hime questioning Hikaru's motives and interest in Yume (which is strange since we were led to believe she already knew what was going on...). He plays dumb until she forces him to speak, but instead of answering, he states it isn't her concern and makes her leave.
As this is going on, Yume, Laura, and Koharu are in the Cafeteria discussing the performance when a red carpet unravels before them. S4 appears, much to everyone's surprise as Yamaguchi and his camera man join them. Hime apologizes to Yume for the burden of yesterday, but Yume claims it was nothing of the sort (in all of her adorkable glory). After she notices Yamaguchi he explains that Hime is taking part on a program known as "Fervent Continent", and as such he is to follow her around for the day for an entire coverage on her. As Yume notes how special this is, Hime asks if she would like to join them by working as her one-day manager, and Yume jumps on the chance to accept the offer.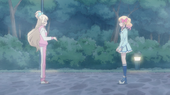 The following morning Yume makes her way over to the S4 Dorm (a litteral castle compareable to the mansion-like Top Idol dorm from the original franchise) and to her surprise, she sees how massive the building is. She imagines that Hime would be pleased that she showed up early- only to be startled when someone suddenly calls out to her. To her shock she finds Hime dressed in training attire, returning from a jog. Yume is amazed as Hime explains she wakes up extra-early every morning to get a jog in before the day can begin, and Yamaguchi joins them.
The foursome head off to Hime's first job for a day, an appearance on the show "Makiko's Room", where she and Makiko quickly strike up a bond, complimenting each other. She asks Hime how she always remained in high-spirits, even being so little in a world full of adults, and Hime explains that she was used to being surrounded by camera for the longest time, so she never felt nervous.
As Yume listens in, Makiko discusses Hime's astounding popularity in the entertainment world, rising from a baby to a popular child model appearing on several magazines, followed by drama before she enrolled in Four Star Academy- where she also added Idol to her list of endeavors. Within her first summer there she was given a position in the idol unit, S4. Yume remarks that Hime must be a prodigy, causing Yamaguchi to suggest she listens in more closely.
(Gee, who am I suddenly being reminded of~?)
With that they head onto Hime's next line of business, observing the product pitch and preparing for a commercial regarding a lipstick a cosmetics group made based on her. Hime is quickly taken by its pretty color and agrees to it, going to change into the beautiful, one-of-a-kind gown, and the commercial begins shooting.
Hime easily manages to win over the men with her elegance and charm, but during a break Yume attempts to give her some juice. After she trips and spills some of it onto her dress (with "oh crap!" being said by Yume, much to my surprise), the men quickly show they are not in the mood for any of this and begin to angrily scold Yume for what she did. She attempts to apologize but they hear none of it until Hime stops them, saying that she can work around the small spill. She shows them and quickly the men calm down.
(Was anyone else kind of alarmed by how quick these seemingly innocent men switched from hot to cold? They must only like the cute hime-types, rather than the Dojikko.)
As they take off Yume continues to profusely apologize for the incident, but Hime isn't upset at all. Yamaguchi notes that a crowd has gathered outside to see Hime and she asks Yume if they have the time. Once Yume confirms they do, she quickly steps out to greet them, then asks them to get together in an orderly fashion to take a group photograph.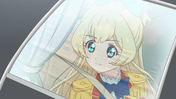 While making their way to their next destination, Yamaguchi asks Hime what made her decide to see the fans. She plainly answers that its because of them she has everything now, and as such she enjoys getting to interact with them as thanks. Yume notices that for a moment Hime seems off, and Hime remarks it will rain. Yume doesn't understand however, noticing that its perfectly funny outside. Hime then requests that they stop at one of her favorite spots for lunch, a Curry House.
Once seated Hime requests her normal dish, with Yume also requesting it. Curiously the man reacts and Yume doesn't understand why that is until she takes a bite of the curry. It's extremely spicy! As it turns out, its the spiciest curry they make!
(No offense to Yume but Super-Spicy is the best way to go~)
As Hime finishes her lunch, two waitress suddenly approach and request a photo. Hime agrees, but after they finish they also recognize Yume and remark watching her performance from the day before. They also request a photo from her before going on their way. Hime notes at that moment that its getting dark outside, feeling another momentary pain.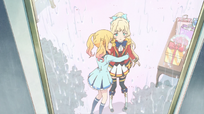 After arrival Yume notes that Hime isn't scheduled to perform for an hour, so Hime requests that they relax in the dressing room for the time being. Yume is amazed by the large size, taking in the various flowers and presents left for Hime when she suddenly stares in alarm as Hime slowly begins to deterioate. As Yume panics, Hime attempts to calm her by explaining whenever it rains, this always happens to her. The only thing she can do about it is to rest until she has to go on, so Yume helps her over to the couch- where Hime quickly passes out.
(I have that obscure illness that makes someone sick everytime the season changes- but I had no idea someone could get sick from the rain without even being IN it. And here I thought my health was bad.)
Eventually as the time ticks down and ten minutes remain, a staff worker comes in to inform Hime she has to get ready now. As Yume attempts to tell him the problem, Hime is suddenly up from the couch, acting perfectly fine. She assures him that she will be out, but nearly faints right after. Worriedly Yume attempts to convince Hime that she can't perform like this, but Hime stubbornly refuses to back down. She explains that even if only one person stood there to see her, then no matter what she would deal with it and go to see them.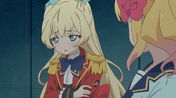 Worriedly Yume follows afterwards and watches helplessly as Hime tries to calm herself enough to perform. Its then she gets an idea and begins to massage Hime's hand, saying that while she doesn't know if it would work, she must do something as her manager. Relaxed and less-ill by now, Hime seems to calm her illness down enough to go out to change attire and perform "episode Solo".
Afterwards the weather has slowly began to brighten up and Hime steps off of the stage to find Yume in tears, confusing her for a moment until Yume explains that she was overwhelmed with emotion. Hime smiles to her and offers her a tissue.
With the work day over, Yume joins Hime at the garden where S4 meet up for tea. She is delighted to be witnessing this, and amazed by the radiant beauty of the garden. She watches as Hime reveals the snack she picked up for them and suggests the tea Yozora makes, then hands a gift to Yamaguchi as thanks for his and the camera man's hard work. With that they end the program and take their leave as Hime is seated. To Yume's momentary concern she watches as Hime slowly falls asleep at the table, and the trio quiet her down to avoid waking her up.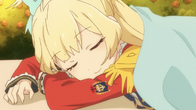 As Tsubasa gets a blanket to cover Hime with, they explains that while she is the type to keep going while the camera is on, her hobby could practically be considered "napping", as she does a lot of it. Relieved to know this, Yume explains that Hime made her learn a lot that day, in that she isn't a prodigy at all, but an Idol who works hard and does her best by facing each day with a smile. She aspires to become an Idol like Hime some day, and the other members of S4 assure her that if she puts in as much dedication maybe she will become like her; only to shush Yume again when she gets a bit loud.
And so that concludes this episode. While I admit, it was basicaly a remake of the original manger episode in the original series, I felt like this one was also unique in its own right and I really enjoyed it. I wasn't really disappointed by the song performed either- because it was technically the second song Hime performed solo and that alone made me happy. I kind of wish they would show off some new coords for the S4 members though, even though I really love her Premium Rare dress she wears.
Hime was adorable throughout the entire episode, which only solidifies what I said. She was my first favorite, and if Laura wasn't here she would still be it. I'm frail and get sick, and I give up at the drop of a hat, but Hime can keep going even if everything turned against her. She's very admireable, which only adds to the comparisons list of her and Mizuki.
As for complaints or disappointments, besides those questionable staff members of that cosmetics brand, I don't really have any. See you guys for Episode 12!