So here we are guys! Episode 10! I do apologize that  took a bit long to get to this- I had a really hectic day yesterday and was way too busy to be able to manage anything. By the time I got home I was so exhuasted, being out of the house nearly 12 hours (most of which is spent in a vehicle) with only four or five hours of sleep will do that to someone. I'm also sick, but I know I had to get this done.
Anyway here it is. You can check out the Special Segment I included at the bottom. I hope you enjoy it!
Without further ado, lets review!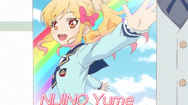 With word of Hime's approaching performance filling the halls, Yume is surprised when Anna approaches her. She tells her to go to the Headmasters Office, where Yume is informed that she will be taking Hime's place (with no reason as to why that is).
After class begins, Yume is asked to give the class a few words regarding the recent developement. Yume is hesitant but she promises to do her best, with Anna asking the class to aid in setting up for the performance.
During lunch the girls ponder just why Yume was chosen, and while she and Koharu believe her true potentional is shining through, Laura reminds her that it was originally Hime's stage. At first Yume doesn't seem to understand and dismisses the comment, showing them the Grade-Up Glitter she obtained from her last performance. She plans to use it for this performance, since both of them are special.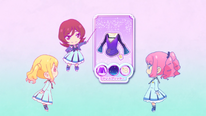 At the Dress Make room (we are treated to a reminder that Yuri is no oridinary student), Yume is congradulated by Yuri for obtaining a Grade-Up Glitter so quickly, which is uncommon of first year students. She explains how the process of upgrading a coord piece works before letting the girls get to it. By placing the Glitter over the already exsisting coord she's made, Yume is able to produce the Citrus Tea Time Coord. 
Later Koharu returns to the dorm to find Yume observing a music sheet. She recognizes the songs title and Yume recalls the performance they saw before joining the school. She had already talked it over with Anna and they agreed it would be a great choice. Koharu brings up that with this Yume is beginning to grow closer to her dream of someday joining S4, and Yume agrees voicing her plans to invite her parents to attend the concert.
Is anyone else starting to think Koharu may be a bit of an enabler for Yume? I understand as her friend she'd want to be supportive- but it seems like Yume keeps having her confidence built up by her, just for it to terribly go bad in most cases. Don't get me wrong, I adore Koharu.
Hime pays Headmaster Hikaru a visit a bit later, asking him of his plans. She finds that forcing a solo live on Yume, who may not be ready just yet to be too much, but instead he asks her of her own opinions regarding Yume and if she has any faith in her. Hime does, saying she sees potential in her, and he states that if Yume was to fail she will be removed from the school.
While waiting for Anna to arrive the following day Yume checks over the ticket sales to see if she can reserve some. To her alarm she sees that none have managed to sell and confronts her teacher over it. Anna suggests that instead of sitting around waiting, Yume go out to sell them on her own and sends her off.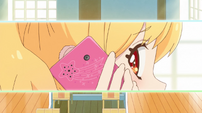 Try as she might, Yume is unable to drum up any interest, running by and calling several people she has met to see if they would be able to come. All of them have plans however, and are simply unable to make it that day. Disappointed Yume attempts to force herself to remain hopeful, but she finds herself unable to after hearing some girls from class discuss her while training in another room. Her mood worsens after Laura arrives to announce three tickets have sold- but to her own fans, not Yume's.
Yume runs off and tries to determine just who she may actually be singing for, obsering the poster made for the event. She attempts to resume training but struggles too much, unable to concentrate or focus properly as a result.
Yume takes off from the school a bit later when she happens to walk by Hime and a group of her fans, classmates from the school. The girls are very disappointed that she can't perform like she was supposed to, and Hime promises to make it to them- but happens to notice the depressed Yume walk by them.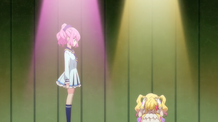 As she rests at her dorm room, Yume dreams that she is on stage, dressed in her beautiful new coord. But to her shock nobody has showed up. She realizes she is truly alone as Laura suddenly appears, and asks her for help suddenly realizing what Laura meant earlier. But Laura tells her that this was her own decision, and now she has to deal with it. She tells her not to let her down and walks off, with Yume desparately calling out for her until she wakes up.
Can you say ouch? Even if you don't like Yume you have to admit this scene was depressing...
As Yume realizes she never stood a chance at this performance, she takes out her goal paper from her old school and sheds a tear. She takes off once more- but before getting far she (literally) runs into Subaru, not paying any attention. In need of some guidance, Yume talks to him but is unable to determine what she wants to do. Subaru, annoyed by her inhability to make up her mind leads Yume back into the town to show her how hard Laura and Koharu have been working. The girls tried to get tickets for Yume's performance, and they manage to get a little interest, causing him to say that even if Yume is unable to fill the performance hall- she must work hard for those who show up. Then to make her feel better, he goes on to say that for his first solo live he only sold a single ticket.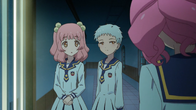 With her new resolves, Yume sets out to work tirelessly lately into the evening, with Anna pushing her the entire time. Two students happen to notice this and comment on how late it is, with Laura approaching them to point out that Yume has been working hard. She then asks if they would able to do this, despite everything Yume has been through, causing them to think about their earlier conversation.
Eventually, Saturday arrives. Yume speaks with her parents while observing the cake they made for her. They are joined by Koharu and Laura, and Yume's father points out that he didn't see too many people out in the waiting area. He asks if more will be coming, and Yume simply smiles and says no; however, she will put on a great performance for those who did show up.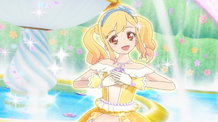 As she goes to change into her new coord and get on stage, the Directors, and Kaoru show up outside. She gets onto the stage and begins her performance, wowing the audience as she unleashes her amazing rainbow aura from her performance upon the stage. Laura notes this change, and Hime arrives just in time to see how things went for Yume, happy as Hikaru taks his leave from the door way.
Outside, Hikaru makes a remark, saying that Yume must find a way to conquer her Idols Potential and Power.
So thats in for the recap. Before I get to my special to comemmorate the episode, I'll go over my opinions. I noticed several members were looking forward to this episode, but once again I was left feeling, "meh, some personal character growth. Not sure if I care or not." After watching the episode, I did enjoy it a fair amount (as much as being sick will allow me), but I can't say it was my favorite or anything.
I love that Yume got a pretty upgraded coord to wear, even if I can't say I enjoy the colors much (but thats a personal opinion, I hate yellow), and I hated how the headband kinda sticks out against the color choices. She would have been better off using the Mint Tea Time/Tea Time coord. But this is again a personal opinion; I kinda hate how lazy they are with the accessories in this series because in the original, the accessories were usually recolored, or at least managed not to look weird in contrast with the variety of colors.
In terms of the perfomance I loved that they finally put in another song. This was the one major thing I was actually looking forward to. I thought Yume sung it fine- but I know a lot of members had a complaint about it. I honestly didn't see it.
Seeing this episode, my doubts that Hikaru is actually evil seemed to be correct. I could be wrong- but I still believe he's just pushing Yume extra hard due to her S4 aspirations. Her true potential was witnessed and he needs to push her to get her to release/use it. In case you guys forgot, Orihime didn't coddle the students either.
In the end, I was left bugged by 1 thing, a thing that's plagued a lot of us: What caused Yume to forget how she unlocked her rainbow aura the first time? She was fine this time, but do you think she'll remember having done it before now? Only time will tell!
NOW ONTO THE SPECIAL!
To celebrate the 10th episode airing, I've decided it would be fun to include a few little special things. First up, a word game! Just fill in the blanks I've provided:
"(idol name here) was making her way to the recent (random item and name) Audition to become its Spokes Girl. Along the way she bumped into (name here), who was in desparate need of aid, pointing out that (name here) was supposed to perform with her but suddenly got sick! She needs (1st name here) to take (3rd name)'s place! Excitedly (1st name) agrees and they run off to the performance hall. (1st name) changes into the (coord name) coord and gets on stage, where they perform (song name)!"
Here is mine:
"Laura was making her way to the recent Suite Perfume Audition to become its Spokes Girl. Along the way she bumped into Hime, who was in desparate need of aid, pointing out that Yuzu was supposed to perform with her but suddenly got sick! She needs Laura to take Yuzu's place! Excitedly Laura agrees and they run off to the performance hall. Laura changes into the White Lily coord and gets on stage, where they perform episode solo'!"
Next is the last Special feature for the episodes comemmoration: The Top 5 Funniest Expressions and Moments List!
5.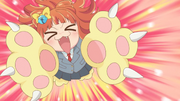 Ako Saotome! A cutie-Kitty girl with the quick reflexes of a Yandere in full swing! If you're after her Subaru-kun you better prepare to be assaulted by cuteness!
4.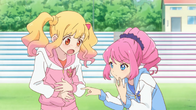 One of Laura and Yume's first interactions was Laura giving Yume her own, personal check-up. Laura, in all of her teasing glory points out that Yume is lacking in "certain departments" vital to training as an Idol. As you can see, Yume was unflattered by such a statement.
3.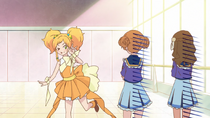 It seems that Yuzu has learned what comes to natural to any of us girls. When in doubt, act stupid, innocent, or cute. Here, she managed to portray all three.
2.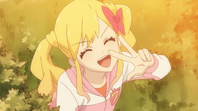 After running into Subaru during a jog Yume decides to show us what happens when you get competitive with this very visual explanation: getting competitive surely gets us ahead; right into a bush.
1.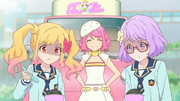 Being a good friend means willing to do the impossible; even if that means eating an ice cream that may not appeal to you in any shape or form.
Well, thats my top 5 list of the most amusing moments so far! Feel free to share yours!