After how much last weeks bored me, and how fun this one looked (come on, obstacle courses in anime are ALWAYS fun), I was so excited to watch this one!
Without further-ado, lets Review!!!
The episode starts with a mysterious woman (later revealed to be named Kaoru) shows up to pay Headmaster Hikaru a visit.
(Was I the only one who instantly flashbacked to Ouran?)
One day Yume and Koharu try to pick something to eat when a man nearby catches their attention, offering everyone some free Taiyaki. The girls wonder what this is about before taking one. After complimenting the taste, Yume happens to find a slip of paper within hers labled Winner, the very same paper as Laura.
(Too bad it wasn't an eating contest. Yume would be a shoe-in.)
The duo head off to visit Anna, who announces that by getting these papers they have been chosen to enter the Koukadou Audition approaching. Laura recognizes the name as a famous confectionery brand, and Anna points out that each year an audition is held to determine their campaign girl for the newest product. Before wishing them luck, she reveals the girl to win the Happy Koi-Koi Konpeito Campain Girl (what a mouthful...) event last year: Yuzu.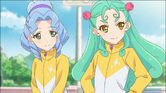 Upon the events approach, Yume and Laura observe the eighteen other girls surrounding them, but only two of the girls give them flack; a pair from Shiny academy, Ayumi and Naho. Ayumi is highly confident that they will win, but voices her doubt to see someone like Yume there. Laura warns her that insulting her will only end badly for them (just like any other overprotective girlfriend), and with that the event begins with a woman approaching the stage to introduce herself as Kaoru, the president of Koukadou. She is in search of a Miracle Girl, one who fits the three top criteria: Knowledge, Stamina, and Luck. 
She goes on to reveal that Yuzu will be the host for the program and Yuzu begins, starting the first round off with a True or False quiz. Each girl must take turns jumping through one of the two symbols, whichever one they believe is the correct answer.
Yuzu starts by saying for dinner last night she had fluffy omelette rice and a girl runs through true, unsure of her answer, only to land into the mud. Yuzu reveals she actually had soba as Laura takes her turn. Yuzu states her personal spinning record is one-hundred turns, but Laura knows someone like Yuzu would never stop at one-hundred and jumps through the False wall. She is proven to be correct and Yuzu reveals her record to be two-hundred fifty.
Lastly, Yume takes her turn and Yuzu announces that she sleeps with her favorite stuffed cat. Yume has no idea how to answer it, but strongly believes in herself by running through the False wall. She is revealed to be correct and the ten remaining girls head off to the next section.
Here, the girls must jump over the several stones across a path of water. At first everyone does fine but as they approach the middle, things slowly come to a hault. 
Just then, a ball to suddenly fly into the air and knock a girl into the water!
(And no I did not make that up for dramatic flair)
Several balls suddenly fly out into the air to try to knock the girls loose from the stones, with few failing, Laura watches as Yume begins to smash the balls back at the machines (and looking cool while doing it for once) before they continue to the end of the section and move onto the third, fourth, and fifth sections, including a hanging section made of ropes, large sacks they must hop in, and a long bridge made of logs suspended above the air.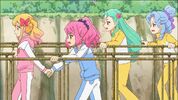 While Yume is pumped for this next part, she notices Laura's discomfort and asks if she might be afraid. Laura denies any such  accusation- but Yume is able to see through her attempts to force herself to cross. Seeing this Yume holds her hand and together the girls begin to slowly cross.
(Aw, they're on their first date~)
Half way across, Yume also notes the other duo struggling and she walks them through it, along with Laura until both manage to cross the bridge. As Ayumi and Naho stop for a breather, she and Laura quickly head off to the sixth section, a very tall wall with climbing ropes.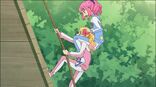 Once again Laura struggles, falling back onto the ground as Yume quickly takes the lead. She stops to check on her, and notes how sore and bruised her hands have become. To remedy this, she does the unthinkable to make sure they both make it; she gives her a piggyback ride.
(Now girls, isn't this better suited for the third date?)
As the duo each the top, Yume's hand suddenly looses its grip. Ayumi and Naho quickly grab her and pull the girls up, leaving them momentarily speechless until Laura asks why they helped them. Ayumi states it was just to pay them back for earlier, and with both teams back on track they make their way down the wall and continue on.
Lastly the girls reach a row of curved stones they must climb over and soon the finish line is approaching!
As Laura sees how much ahead Yume is, along with Naho and Ayumi she pushes herself forward and is able to secure Four Star Academy the win, along with Shiny Academy.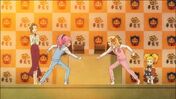 Kaoru then announces the final part for the four Idols. They will be taking part in a Rock-Paper-Scissors event- with Yume and Laura quickly winning with both of them pulling scissors while Ayumi and Naho draw paper. They gratiously step from the stage and Kaoru points out now it is time for Laura and Yume to play until one of them wins...
For hours the girls continue pulling the same hand gestures. They are unable to determine why that is and Kaoru decides they will instead put on a performance to determine a winner through the use of internet votes. Both girls exchange some words before they change into their chosen coords and appear on alternate stages to perform.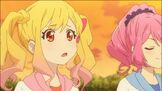 After the girls perform, they watch as the votes are revealed, with Laura proclaimed the winner. Yume is in disbelief but congratulates Laura, going on to thank her for being such a good rival that continues to push her forward.
(is it really a surprise you lost Yume? You chose to wear THAT coord with the short-shorts that nobody likes.)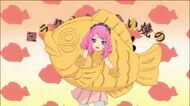 Eventually, Laura, Yume, and Koharu watch the program. Yuzu tries a bite of the Miracle Felici-taiyaki and compliments it before a small commercial jingle plays. Laura is revealed to be dressed up and sings a small song before posing as the episode comes to an end.
And that concludes this episode! It was a lot of fun, and brought along a lot of fun humor. Laura was so adorable throughout the episode, and it was nice to see the two of them bond some more. Notice how Yume didn't react with fright or frustration this time when she found out who she would be with XD that really shows growth between them.
Now, before we go, I have an announcement. For the 10th episode I will be putting in a SPECIAL Feature. Stay tuned~