I adore Koharu- but I actually wasn't extremely excited for this episode or anything. I'm not sure why.
Without further-ado, lets review!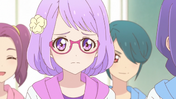 The Moon Beauty class is informed that they will be participating in a first-year only Fashion Contest for Romance Kiss. As everyone shows excitement and anticipation, Koharu grows anxious and finds herself distracted until Yume snaps her out of it during lunch.
Koharu attempts to speak to her friends until Laura reminds Yume they have training before the next class. Yume apologizes for cutting things short but Koharu doesn't mind, deciding to get to her own training session a bit later, where the students practice balancing bottles of water while walking and posing. Tamagoro suggests Koharu practices further and points out the contest will be approaching shortly. She watches, along with the other students as Mahiru takes her turn, and with ease she balances the ginormous two-liter bottle; just like Yozora.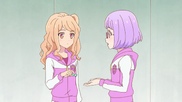 After the class is dismissed, Koharu offers Mahiru some lozenges and cough drops (mint and orange for those curious), and Mahiru accepts one of them. After Mahiru makes a comment on it, Koharu reveals she always stuffs her pockets full of items. Mahiru then requests that she call Koharu by her name after Koharu does it first, then takes off- just for a few classmates to approach and comment on how easily Koharu was able to handle speaking to her. At first she is curious until they explain that Mahiru is hard to approach due to the adult-like radiance she gives off. Koharu sees what they mean, but she is unable to agree with them. 
(Okay, new shipping birth and for once Yume isn't involved; what sounds better, Kohiru or Maharu?)
Outside, Koharu relaxes on one of the benches until she spots Laura and Yume. She approaches to offer some assistance (and to give Yume a moment of false security) and helps them take the heavy speakers over to their location.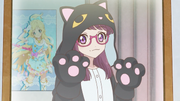 That evening Koharu still feels down, unsure of how to improve herself. Yume insists she is fine the way she is but when Koharu attempts to open up to Yume and explain her feelings, she finds her friend already passed out in bed. She decides to just leave her alone and gets to work by practicing, using a variety of costumes, wigs, and accessories while posing and practicing before a mirror. From the cute to intellectual, from the cat kigurumi to the mysterious detective she tries them all (while once again causing Yume grief after scaring her silly).
In the end, she feels that something is missing and confides in Yume afterwards. She reveals the upcoming contest and really wants to enter; but she doesn't think she's capable of doing very well. Yume assures her that she would make a great model though, and is very excited to see her enter it. 
The next morning, Laura and Yume go outside for some early morning training when they spot Koharu heading into a building. Curious they decide to spy on her to find her speaking to Tamagoro, deciding not to enter the contest out of fear her skills are lacking. While accepting of her decision, he points out that having weakness isn't necessarily a bad thing, and entering this is actually one way to overcome a hurdle and find ones strength. After he points out the girls to her, Koharu heads outside to speak to them again.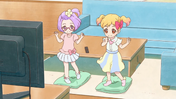 Hearing Koharu speak so poorly of herself reminds Yume of the past. She recalls how confident and knowledgeable idol-wise Koharu is and brings up a past memory, back when they would watch Idols perform and dance along with them. Koharu always knew where Yume would mess up or have to improve at, and she would always be filled to the brim with DVDs or items. She admires Koharu, not only for being so talented but because she is modest, kind, and highly perceptive. She loves her so much and loves her even now, and such words encourage Koharu to return the sentiment to both her and Laura.

Together the trio get to training, with Yume and Laura offering to help Koharu. Try as she might, she struggles to stand on the balance beam for long, when Yume decides she'd like to try. Unfortunetly, she was unaware that two-liters weren't for training after she falls off of the beam. However, Koharu decides to take it and attempts to resume her own balancing act.
She falls and falls, but never gives up- remaining determined until she nears the edge. Suddenly her foot slips ut before she can fall, Koharu quickly turns and spins around to save herself a fall, and reaches the end of the beam. Yume and Laura proudly congratulate her and eventually the contest arrives later that evening.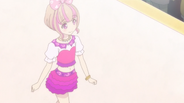 The contest begins, with both Tamagoro and Yozora announcing various things. Yozora points out that the teachers will be judging the event and reminds them to be impartial before things get underway. 18 girls strut their stuff down the isles, including (the adorable) Momoi Kokoro, Mahiru, and Koharu.
As Koharu takes her turn she manages to eagerly walk the stage and wows the crowd after suffering from another stumble, twirling around and ending with a curtsy before she leaves the stage.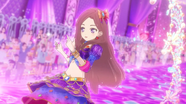 Once the girls finished, Tamagoro takes over to announce that Yozora will put on a performance to end the show before they announce the winners. She changes and appears on stage to perform Future Transit. 
Afterwards, the three top girls arrive to the stage, Momoi, Mahiru, and Koharu. It is announced that Mahiru has won, not only for embodying the sexy-type so well but for her mature poise and elegance. Yume is dismayed by the announcement but Laura, nor Koharu are all that broken up about it. To everyone's surprise, it is also announced that a second award will be given to the Judges Choice, this being Koharu for showing true potential and her ability to quickly think and counter.
Koharu thanks everyone and mentally thanks the girls before remembering the day Yume told her they should enter the school. Koharu agrees to these words, and is now, more than every sure they will enter S4 together...
And that concludes this episode. As I said above I actually wasn't super-excited for this episode, I don't know if its because Yozora is my least-favorite S4 member or if its just these fashion episodes. Anyway, I was happy to see Koharu get some developement. I was a little worried she would be neglected (despite knowing she has an official school coord, but so does Ako and look where she is), and considering how "shallow" her reasons for entering Moon Beauty seemed, I feel like Koharu may actually hold passion for it as well as her beloved senpai~
Meanwhile, I expected Mahiru to be the "cold queen with permanent resting b****-face", and I was so happy to see she isn't mean or cocky as what the images made her look out to be.
I'm really excited for next weeks episode! I bet it'll be a good one!