To my utter surprise, I looked to see the new episode was already posted on the Anime website I watch! Someone is truly on their game this week. I have to say as a huge Laura fan, I wasn't disappointed by this episode one bit.
I also like to note that I specifically heard Yume say "Laura" throughout the episode. Or at least the L part... I still think her name is Laura- don't care what the stage says.
Without further-ado; lets review!
The episode begins with Hikaru and Anna chatting about Yume's progress and lack of it. Hikaru has his doubts of her worth but Anna brings up that Laura has been helping her and mentions how talented she is. Hikaru, while aware of this, believe Laura must overcome a personal challange before all else.
I'm prepared to be bashed for this statement but keep an open mind, I'd love to see some Hikaru X Laura shipping. Or at least some sort of dynamic or even a chat. Their personalities would be so awesome to see together!
I should be locked up for that statement.
I'm not sorry!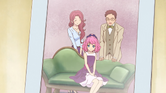 Meanwhile, Laura shows Koharu and Yume her long family line of musicians, pointing out they come from such periods of the Edo, Meiji, Taisho, Showa, and currently, Heisei (I've only heard of Edo and Showa Period honestly). Laura promises that she will not let her family down as an Idol and its current Generation, when suddenly they get a message for an upcoming Audition as the spokesgirl for a new Ice Cream brand, Jewel Ice.
Right away Yume and Koharu believe Laura is a great candidate, as an indivisual and talented Idol and she agrees to enter. So they run off to do some training, but in this time Yume slacks off and chats about Jewel Ice with Koharu- who has already gone ahead to do some research on it.
Gee, who does this remind me of~?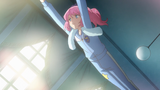 After Yume realizes if Laura was to win, she could get a lot of free Ice Cream she voices her support for her friend and rival. Right away Laura can see through her, but Yume attempts to claim otherwise with some help from Koharu, who is sure she will pass.
Laura finds herself a little anxious though, and points out that a key feature of this Audition will be showing off a unique personality as an Idol. Every girl will be pushing her unique qualities and she must leave the judges with a huge impact. While Koharu and Yume worry they promise to help Laura as much as they can.
The girls head to the Dress Make  and Laura attempts to create a coord. Yume adores the top she starts to make, but Laura feels it isn't special or unique enough and recalling Koharu is talented with drawing (something we, the audience had no prior knowledge of), and asks that she makes something for her.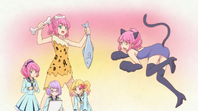 This task seems easier than done as the girls retire to the Cafeteria. Koharu comes with an Edo-inspired design that Laura enjoys until Yume points out it isn't practical for an Idol performance. Laura then deems the next dress to be not very feminine, then expresses annoyance at the (oddly depressing if you know the story) Fairy Tale inspired outfit. They try to think up several ideas (my favorite was neko Laura, nyan!), but none of them impress, leaving Laura to settle on one and move onto selecting a song she will perform. 
The same proceeds to happen there as well, with Laura selecting great choices- but none of which befit her. Starting with an Edo song, followed by a rap. Yume suggests she picks a song she already knows and enjoys but Laura worries this is seen as lazy and decides to just wait on this as well. As she gets up to leave, Anna approaches the table and speaks with her for a moment, noticing Laura seems "off". 
That night Yume is anxious over how Laura is doing, aware of her struggles. As her friend and rival she wants her to succeed and not let such things get her down, which makes Koharu happy to know she isn't only thinking about ice cream. Yume denies this, but comments that she wouldn't necessarily mind either, then they go to bed.
Meanwhile, Laura attemps to write her sign-up sheets. She answers various questions but finds herself somewhat unhappy with the answers and gets up to prepare for bed. She plays with her hair in an attempt to think of something, but finds herself still confused and she retires for the evening.
At the Jewel Ice building, the Auditions begin. Laura arrives to spot several unique Idols already there waiting, some of which notice her school uniform and remark that she is probably really talented. Distracted, Laura accidentally bumps a few brooms and knocks them over, but the worker is happy to see she isn't hurt. He notes her uneasiness and remarks on how unique the Idols appear to be. Laura claims that they're all desparate to show-off what makes them unique, but he mentions that standing out and being unique are two separate things, and that simple is best some times. With that he wishes her luck and he takes off, causing Laura to wonder what he meant as her turn arrives. 
While Laura manages to please the judges, answering their questions with confidence and ease and adding a little humor, one judge feels that her answers leave more to be desired. He believes she may be forcing herself a little and with the time limit, they end the interview, leaving Laura angry with herself and his answer.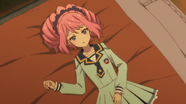 Back in her room, Laura attempts to figure out what she did wrong. She refuses to believe she was forced, but starts to wonder if it was okay to choose that outfit she wasn't really happy with. She recalls what the judge said, as well as Yume's words from earlier and realizes she is unable to understand anything.
The next day, Yume arrives to see an exhausted Laura, who reveals she hadn't slept. As they approach the school Anna meets up with the girls and offers to give Laura the answer she needs to break through the wall she's hit. Laura agrees and they drag Yume into the special training, where Laura runs over fifty laps, drags a tire with a rope tied on her, climb a tall tree, and stands under a waterfall; with Yume complaining the entire way.
(Ichigo Yume is not...)
Worn out, the girls sit on the ground and Anna asks Laura a complicated math equation. Laura is unable to figure it out and Anna reveals this is what she counted on, taking off to leave the girls to figure things out.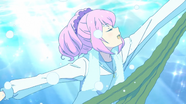 The girls return to Laura's room and while Yume lays, unable to get to the bed at first, Laura tries to resume her paper work. She recalls how the song performance will take place the next day when Yume mentions her desire to have some ice cream. Whenever she is down she enjoys having some, then asks Laura what her favorite food is. Laura reveals the Konbu (vinegar kelp) she has sitting nearby and comments that while it may seem old-fashioned, its an art form that she enjoys whenever she can.
After biting into a piece of the Konbu, Laura is once more excited, which Yume counted on and brings this up. She then crawls onto Laura's bed to spot the poster against the bottom of the top bunk and mentions it. Laura adores the band, Metal Dolls, and comments that she would enjoy wearing a coord based on their outfits one day. As Yume resumes speaking, she suddenly realizes something and thanks Yume, leaving the room in a hurry.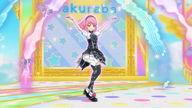 In the Dress Make room, Laura quickly makes a coord to use for her performance. As it rolls along she realizes that she's been an individual this entire time; because the things she likes and values are what make her this. She changes into her coord and appears on stage to perform Aikatsu☆Step!
After the performance she is revealed to be the winner of the Audition and she quickly embraces Yume and Koharu as thanks for their belief in her.
Eventually, a special ice cream is released and Laura gives out samples of it. Several people recognize her, revealing she has gained a few new fans in the process and she spots the cleaning man from the first Audition. She runs up to thank him for what he said to her when suddenly a woman spots him and runs up, informing him he must get to work. The man refuses, revealing himself to be the President of Jewel Ice, stating that besides ice cream he likes to clean. A few more men appear as Laura watches and drag him back inside.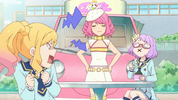 It's then Yume and Koharu appear and Laura reveals the new ice cream they made based on her, handing them some to try. The girls are appalled by its black color and its salty-sweet texture. While Koharu tries to choke it down, Yume tries to run away for water- only for Laura to hold her back. As Yume declares normal ice cream to be better, Laura can only give her a teasing response.
I. Loved. This. Episode.
I adore Laura's normal charming and confident nature but I was delighted to learn more about her personally. She isn't a perfect Mary-sue, she has thoughts and feelings and concerns that we probably never even assumed until seeing/reading the preview. We also learn she may have an addiction to the Edo-period.
I adore her coord as well. I wish I could sew clothing because I'd HAVE to make it. I would wear it and perform a cover of every single Aikatsu song all day long~
Okay, maybe not at night to avoid complaints.
Forget that, I'd do it at night too.
Anyway we DID get a repeat song- but if you guys notice, it actually mentions the key word of this episode, "Indivisuality". While I would have liked a new song, it made perfect sense to choose this one.
I am a little disappointed we didn't see Ako, but I am looking forward to see Koharu gets some light to herself, as well as the mysterious Mikuru-Clone whose name we shall SOON finally learn- unless it isn't said. Fingers crossed!
See you for eight, don't be late~