Welcome to my sixth Aikatsu Stars Review. I was so excited to see this episode when I found out Ako would be appearing.
Without further ado, lets Review...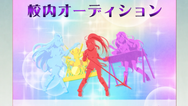 The girls enjoy breakfast while watching the S4 morning program. There, they announce a special Drama in the works and reveal their plans to include new students to join as minor classmate characters. After they finish breakfast, Yume, Laura, and Koharu go to learn more about the Drama. The  story will be known as "The Story of a Group of Studyholic Girls who Formed a Rock Band and Got into a Music University on their First Try" (no doubt a reference towards girl band anime somehow), but also known as Rock! Rock Girls. 
While Laura and Yume are excited to try out, they entice Koharu to join them when Yume points out she would get a chance to act with (her beloved) Yozora.
It is then we wander into the Host Club to find the SIsterly Prince of the lavender rose, Yozora, with one of her frequent customers.
Give yourself a cookie if you know what series I referenced.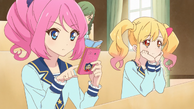 In class, the class excitedly chat over getting a chance to act. While Yume is concerned Laura continues portraying a cool head. It's then Anna arrives to greet everyone, then reveales she asked a guest to come and lend them a hand with their acting for the upcoming Auditions. Tsubasa walks into the room, much to their surprise, and she requests that everyone follows her to the Lessons room.
There she goes over a scene, reading it while displaying her pure storytelling skills to paint them a picture. She goes over another scene and decides to use it for training, explaining that as students they must rudely ignore her request to join her band when she hands them flyers. Each girl takes a turn, with both Laura and Yume doing rather poorly. Tsubasa then calls the final student, Ako, to take her turn, and Ako, without much effort, passes her training.
This causes a small uproar with the students, amazed by Ako's job well done. As one of the newest top ranked Acting  students the girls are painfully aware that compared to the Bird Theater students, they will have a harder time and retire for lunch.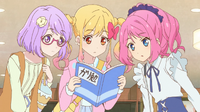 Afterwards the girls go out to do some research on the type of character they will be playing (while not only not wearing disguises like in the past series, but wearing the most adorable outfit ever; Laura that is~), and decide to write down some tips on how to act like a Studyholic. But when Yume is too noisy- they quickly leave the place and go over what they gathered.
However, Subaru and Nozomi, two members of S4 have come out to see what the girls were doing. While Yume complains, Subaru reads the paper and starts to laugh at it. Nozomi points out they also have a part in this movie and Yume asks them how they would give someone tips on how to act and Subaru proceeds to give them
(the most obvious)
tip; saying that they shouldn't try to force themselves to act because they'll only look bad. So if they just act confident they will do fine.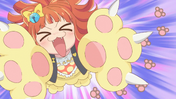 As this is going on, an envious Ako watches from the distance and quickly runs up to push Yume. The girls turn to her, surprised and Ako quickly begins to assault Yume with her words, saying that she wouldn't lose to someone like her. She demands to have Yume's name, and Yume points out they're in the same class together- but after she tries to be nice to her, she attempts to attack Yume again before running off.
The next day everyone heads out to the filming location to meet the Director, Jirou Okamoto. He passionately delivers his words of advice (not even a full sentence at that), then has the girls start.
Once auditions end, Ako bitterly observes the group to see that not only has she passed, but so has Yume and her friends. With that they decide to get started with the scene Tsubasa had the class practice the day before.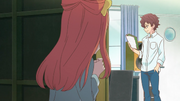 Upon finishing they head to another location to shoot the scene with M4 observing the recent success of their rivals and claim they will be the winners of the upcoming Rock Music event.
During break, Ako continues to spy on Sobaru - happily fawning over him (and being super cute while doing it) when the director suddenly calls a cut. He feels that Subaru's character is shallow, in that he lacks something. Subaru suggests they give him a girlfriend, because he would be inspired and passionate regarding the rock event, if he wanted to win it for her. The director agrees before laying eyes on Yume and asks her to play the role. He informs her they will have to ad-lib since they're improvising now but she refuses, saying she's new to acting and wouldn't know how to ad-lib good enough yet. 
However, Subaru challenges Yume by saying she's too frightened to even try. Angrily, Yume walks up to him and begins to yell at him and tell him off for what he said. Subaru takes advantage of this as his character and embraces Yume, promising to win the contest for her. Yume is left speechless, unsure of what to do or say while Ako angrily fumes from behind the scene.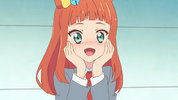 Quickly Ako attacks Yume again, but Yume (remains as dense as ever) greets her, as if unaware. Before he leaves, Subaru stops to toss Yume a bottle of water and Ako fawns over it. Seeing this Yume offers it to her, which Ako considers accepting until she realizes Yume is nothing more than her enemy and tells her off for it. In this time the girls deduce she must have a crush on Subaru and flustered by this, Ako runs away.
Later, the girls watch the final part of the Drama while in the Cafeteria. They watch as Rock! Rock Girls reform their group after Tsubasa steps on stage to reveal she was ditched so that they could resume studying, then they proceed to perform and win over the crowd. Anna, playing the host announces they have won and as the Drama ends, Tsubasa narrates with a heart-warming statement.
While discussing how the Drama turned out, the girls are approached by Ako once more. She is quick to tell off Yume again before storming off, with Yume trailing behind her to chat with her. But as Laura and Koharu discuss how much they like Ako, the girl proceeds to prepare to attack Yume after she attempts to befriend her by threatening to claw her.
Alright, so I enjoyed this episode x3 I wasn't crazy over the Subaru X Yume- but I am enticed by the idea of Ako X Subaru, Ako X Yume, Ako X Koharu, and even Ako X Laura.
Meanwhile, on the subject of Ako...
I LOVE her. She is too too too too too too cute!
She's as if my beloved Yurika-sama was reincarnated into a cat girl~
She's also probably the closet thing we'll get to a Yandere in the Aikatsu series.
Anyhoo, I'm really excited to see next weeks episode, maybe even moreso than this week since it'll star Laura. I hope we get a performance though, since we didn't in this one.