Given that I love 5s, I was hoping this would be a great episode. I wasn't really disappointed either; so without further ado, lets review!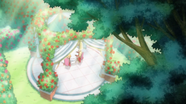 Anna reveals that in order to check the Classes progress after a months time they will be taking a test in a week. Here, they will be performing on a Dance Stage with a coord made using the Dress Make system. As she dismisses the class, S4 are in the middle of a tea party.
Which just goes to show- no matter how busy, they're girls underneath it all who still enjoy the simple things... of course, its not without its benefits. Such as the simple elaborate garden surrounding them!
While admiring the tea and scones made by Hime, the foursome quickly discuss the freshmen and classmates. They are excited to see where their future leads them (gee where have I heard this comment before?), and Hime remarks that Yume is like herself. Yuzu is confused by this statement, but they say no more, finishing their break and heading back to their classes.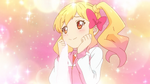 Laura and Yume finish their jog at the training fields (probably the only thing that didn't change in Aikatsu) and discuss their upcoming test. Laura is excited by the challange and they agree to pass it together before they take off to change out of their training attire.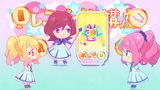 Once they finish, the girls head off to the Dress Make room, where a student in charge of it approaches them. Yuri gives them a rundown on how Coord making works again, bringing up that the outfits can be customized in several ways- as long as the idol collects Glitter to gain more options for future usage. With that she turns them loose and allows them to get started.
Using the device, Yume and Laura observe their choices set out before them and Yume is quick to make her decision. Before she can save the coord and get cards for it, Laura stops her to reveal that once she does this, she will be unable to change it. While Yume is sure this is what she wants, she decides to hold off on it and happily takes off.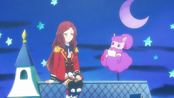 Walking back to the dorms, Yume excitedly imagines what everyone may respond with upon seeing her new dress for the first time. She acts out their responses then eagerly heads inside to find Koharu watching a program Yozora is on. Along with a strange purple talking squirrel... 
Is this Aikatsu, or Yokai Watch?
Just kidding :3 Miss Romance is too too cute!
Yume sits down to join Koharu but suddenly feels troubled after Yozora makes a comment on how important it is to consider how the coord will serve the performance its being used in. She is unable to understand before expressing sadness when the program runs out of time and comes to an end.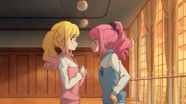 The next day, she and Laura dance together for practice. Laura, aware of Yume not focusing stops to tell her off, saying that she doesn't want to waste her time with her if she doesn't even care about it.
Care about what I wonder... Was any one else getting shipping signals here?
Yume apologizes to Laura and admits that she's distracted by something, and Laura, being more understanding over it claims she has felt the same way. She goes on to insist that if Yume is that concerned she should seek the answer. Yume agrees and thanks Laura before taking off.
Back at the dorms, Yume sits down to three stacks of magazines she asked Koharu to pick up. At first she is concerned this may be too much- but she forces herself to stick with it and spends the next few days studying and training. Eventually, she is ready!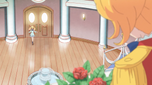 In the Dress Make room, Yume applies what she learned to make a new coord. But after it ends up being the exact same thing she sadly gives up, realizing that its missing something and is unable to determine what that is. Unknown to her, Yuzu was on the floor above her and happened to overhear the commotion.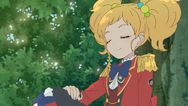 After she tosses aside her training items in the dorm, Yume leaves to take a walk. She stops after hearing sound in the tree above her and glances up to find Yuzu. Who once again proves that the physics in the Aikatsu World are not the same as our own after she jumps out of the tree with no sign of injury or shift in clothing.
That or Yuzu shows us that she is part cat. Your choice.
Yuzu explains to Yume that she was too entranced with the rhythm of the leaves up in the tree to pass them by without listening. She also brings up that every living thing has its own rhythm, then sniffs Yume to determine hers matches Hime.
And with that, Yume's fifth ship is born! Yu... Yu....
Yu...z...
Yu....m...
Yumu!
Yuze...?
Yu-duo!
Twin-Tails!
Before Yuzu is able to give Yume an exact answer as to what she means, two students approach and start pulling her back towards the Drama Building. Yuzu attempts to break free, and Yume asks if she can observe the fitting she is to be doing. Yuzu agrees to it and together, the four head back to the building.
There, Yume is amazed by the greeting they receive, and once inside she patiently waits for Yuzu to finish. She steps out a moment later to reveal a pretty, flowing princess-gown inspired outfit.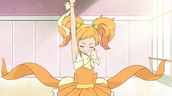 While Yume is amazed, Yuzu dances in this dress but determines that something is wrong with it. She takes the scissors to the gown, along with some other items and quickly modifies it, shortening the skirt and removing the sleeves, adding some cute touches, and so on. She dances again and determines the outfit to be much better, with Yume agreeing. After Yuzu brings up how important it is for her to wear shorter attire to dance, as well as exhilerate the audience- Yume suddenly realizes this is what her coord was missing; something exciting!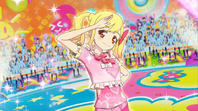 With this answer and a new resolve Yume rushes back to make her new dress and eventually the day of the test arrives. There she admires the new coord and changes to perform "Heart Ski♡ps".
Afterwards, Yume steps onto the stage to receive her scoring. Anna explains the attire did a good job emphasizing her cuteness, while the short-shorts accented her legs and wonderfully fit the dance. She passes Yume and the crowd cheers for her.
Outside, Laura congratulates Yume for doing well (before once again implying she's probably a tsundere). Yume then suggests they have some tea to celebrate and starts to run. Laura tells her to stop or else she will fall; then Yume proceeds to do just that.
Alright, so all and all I did enjoy the episode. It was cute and funny as usual, it had a clear lesson, and it even had a cute new song. However, I did have a few minor complaints over it just the same. Was I the only person who thought that while cute, those short-shorts just looked weird for the song? It may just be because I'm picky, but I feel like they were a poor choice. I do understand why she chose the shorts- but were SHORT-SHORTS necessary?
I also kind of wish Yuzu had performed the song, or at least sung it with Yume, and I wish we could have seen the coord Laura came up with.
My last opinion of this entry, did anyone else think that compared to the previous episode the animation was a bit off? 'It was mainly the facial expressions that seemed to suffer. That isn't to say they didn't do a good job though, don't get me wrong.
Anyhoo, I'm excited for this weeks episode, finally getting to see and possibly knowing Ako! If you're excited, say Nyan~