Without further ado, lets review!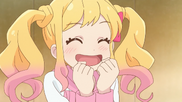 The episode begins with Anna making a huge announcement. For their hard work, the girls will be gaining their first ever experience on television by participating on Aikatsu TV. Excited the girls chatter amongst themselves while Yume begins fantasizing over Hime being so impressed that she wants to start a unit with her. Until Laura snaps her out of it by pointing out her silly (yet adorable) expression.
Was I the only one who got a minor Yume X Hime thing going on during that fantasy of hers?
Meanwhile, who else squealed after spotting Aoi-chan?!
In the end, the girls realize they were suckered into working as the backstage assistants to the stage crew...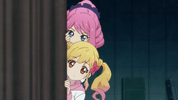 Despite some initial annoyance, they all work very hard throughout the day, but Yume uses this as a chance to get a better look at Hime. To her disappointment the manager calls her back, only for the girls to arrive. Upon hearing them speak, Yume (
now joined by Laura
) spies on them and they notice their expressions, wondering what may be going on.
As it turns out, the girls need to rebuild the entire stage!
My, the delivery of bad news this week is ahead of schedule huh?
The girls are displeased that their hard work has been for nothing, but the Manager tells them that they do not have the time to sit around whining. He asks them to continue working hard and dismisses them.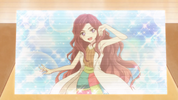 Worn out, Yume joins Koharu in the Cafeteria, where they recall their long day. Yume is disappointed to learn that Koharu got to spend time with the one she idolizes for an upcoming magazine. But she is equally happy for her friend as Laura joins them to remind her of what their hard work has been for. Yume is stumped by this; leaving both girls in utter-shock by her obliviousness. She attempts to play it off by saying it slipped her mind, but neither buy the excuse.
That evening in bed, Yume attempts to convince herself that while she had a tough day, Yozora and Hime work twice as hard normally. She speaks with Koharu over Yozora's upcoming plans when Koharu stops, believing  she heard piano music. She gets up to shut the window but is unable to hear it any longer, assuming she simply heard things.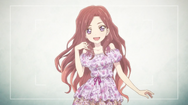 The next day the girls continue their hard work. At one point, Yume is asked to take some items to another room and on the way, happens to spot Koharu in a room with Yozora, who is busy with her photo shoot Koharu mentioned earlier on. She stops to admire how well Yozora is at modeling before remarking that Koharu is lucky to get to be with her. She then heads on while wondering why she even bothered to join the Song Class to begin with.
When the work day comes to an end, Yume chatters on as the man attempts to speak to the girls. After he catches her, he assigns a "special job" for Yume, and tells her to come in at six am the next morning to make sure all of the props are in place. Yume is unable to understand why she must do this and complains before they leave.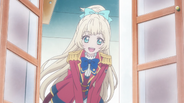 The next morning, Yume gets up early and prepares to make her way over to the building. However, she stops upon hearing the music again and approaches the building- just as someone opens the window; revealing the musician to be Hime herself.
And just like a scene out of Romeo and Juliet, the beloved Hime calls out for her love, Prince Yume of the Dorky Kingdom. Who responds as awkwardly as ever before being brought inside for some forbidden piano time~
Inside, Hime and Yume chat for a few minutes. Hime notes how anxious Yume is and asks if she has ever seen the inside of a piano before, then asks Yume to help her lift the lid. Once they open it, Hime explains how important it is for each and every piece to be precisely placed; or else the piano is unable to create its beautiful melody. It isn't only about the pianist being able to play, but the keys and pieces. Yume seems to understand what her metaphor means, and upon being reminded of the time she quickly takes off.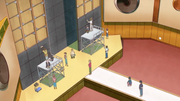 After arriving, Yume sees how hard the staff has worked since the girls took off the day prior. She is impressed by their efforts and progress and promises to continue working at her limits as well.
Eventually when the day comes to an end, the Manager announces that in thirty minutes the show will start. Yozora and Hime come by to thank the staff and students for all of their progress, and Hime apologizes for the extra work they were forced to do because of her late decision. However, both girls are happy with the work they did.
In this time, Yume is told that it was Hime and Yozora who made the refreshments they dined on the past few days. Yume is shocked by the news, but happily realizes that the girls really do put in a lot of effort each day, and despite their busy lives they still cared enough to provide the girls with well-thought snacks.
With that the show comes to a start. The students help guide everyone into the building and to the main stage, where the Moon Beauty teacher, Miwa begins, announcing himself as the Host for the program. Yume and Laura watch from the side as he introduces Hime and Yozora as the special guests of the show. The girls walk around the stage and greet the fans, then take turns revealing their beautiful Premium Rare coords to everyone.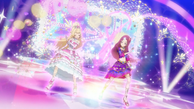 After, Miwa announces that the girls will be putting on a performance. Hime and Yozora run backstage and change into the Premium Rare coords, Arabian Sparkle, and Dreaming Princess. Then appear on stage to perform Episode Solo.
And with that ladies and gentleman, we get our FIRST episode that doesn't feature "Aikatsu Step!". You may now stand in awe or cry yourselves silly to the point of having someone question the display before backing out of the room.
When the performance concludes, Yume slowly realizes that she has began understanding just how important it is for everyone to work hard and put their best effort into everything they do. While Hime and Yozora are talented- it was all of their hard work that allowed the girls to truly shine.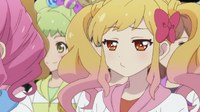 Before leaving, the Manager talks with the students to thank them for their hard work a final time. After Laura points out it was good experience, he goes on to tease Yume as the other girls laugh.
And just as she began the episode, Yume ends it with a silly expression.
Alright, so its time for my thoughts for the episode. It may have just been me, but I felt it was kind of boring. I did enjoy the episode a fair amount, but I think out of all 4 episodes so far this one was my least favorite. I got the meaning/message behind it, and I enjoyed all the silliness that occured, and I loved the performance; but there was no excitement in it for me.
Did anyone else think the facial expressions in this episode were also really well done? Its like they just keep getting better and better.
Obviously from what we got, this weeks episode will feature Yuzu in it. But is anyone curious as to who will star in the one after? What sort of performance will we get? Yume in a new coord, or perhaps Yuzu herself? I'm looking forward to finding this out, but I'm also excited to see what sort of "new coords" the girls may come up with. I hope they show us!
Until then, lets continue to enjoy or Aikatsu together!