Before I start, I'll admit that since the announcement and pictures of M4 appearing; I actually got anxious to see the episode. I was fretting the shipping would already start! However, I went in with a positive mindset and let me tell you; that is way better than thinking negatively. I suggest trying it the next time you struggle with something and you will be amazed over what some positivity can accomplish.
This is also my first REAL review written here, in the forums!'
So, without further ado, lets review!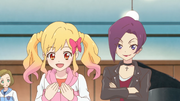 As class continues on, Yume frets over the possibility that she may not be as talented as her classmates. She observes how they are able to hold a note- with elegance and poise, then goes on to compliment Laura when they start their stretches.
It was then we switch to a program known as, "Anna identifies body parts".
Anna starts to touch Yume's back. She straightens it while giving Yume some valuable tips on how to sing better and it works. Pleased by her effort, she announces to the students that they don't have very much time left before the Auditions begin.
In the cafeteria, Yume and Laura watch an episode of a flight drama Yume adores. As Laura questions how Yume could become so emotional over it, they are joined by Koharu and exchange introductions to one-another. While Yume is still anxious over how poorly she does in comparison to the others, Koharu attempts to raise her spirits once more; on top of wearing shipper glasses. 
While walking through the halls, Yume spots several students in the middle of exercising outside. Inspired by it, she changes back into her training attire and attempts to practice holding a note. However, she struggles and starts to fear the worst- causing her to lose focus. In hopes of regaining it, she heads outside for some fresh air and resumes practice after reaching the highest point of the school grounds. And possibily causing anyone afraid of heights to freak.
Hearing someone giggle behind her, Yume finds Tsubasa with a script for the drama she watched earlier. Flustered, she attempts to excuse herself in hopes of not wasting her time, only to stop and ask her how she felt when the school auditions approached. She assumes Tsubasa knew of her goals right away; and Tsubasa confirms she was right, except for which class she actually showed interest in. Back then she had planned on joining the Flower Song class, and won over everyone with ease. But after crossing paths with Hime, she realized right away that nobody would be better than her, and feared the worst.
She left for outside, in the exact same spot they stand now, and resigned herself to a fate unknown until someone approached her. It was Momoko, the teacher of Bird Theater. At first Momoko played a (somewhat mean) trick on her to make Tsubasa snap out of her depression. They spoke of a bird and how it means to fly, and with such intense words resonating for Tsubasa, a new goal was born: to challange herself, she would join the Bird Theater class.
While she may be at the top of the class now, she claims her journey isn't nearly finished yet, and she gives Yume some words of encouragement before taking off.
It is then a new ship is born! Yume X Tsubasa = Tsume! or perhaps... Yubasa?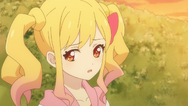 Later in the day, Yume returns to the school while thinking everything over more. She comes across Yuki, who is also out for a jog and momentarily proves just how thick-headed and stubborn she is as she races past him. Only to run straight into a large bush in her hurry.
Yuki checks on Yume, teasing her again. She demands that he stops before pointing out that her quick running doesn't actually help anything. Hearing this, he listens as Yume voices her worries before pointing out that if she focuses on passing or winning- she will lose sight of her own goals or be left with none. He tells her to remember her original plan when she first joined the school and to just sprint forward before he takes off.
I realize now how sweet Yuki can actually be, and he's actually pretty cute when he laughs XD I'm actually growing a bit more acceptive over their decision to include more boys.
With that, the Auditions eventually come along. Yume shows up late (in style), announcing that she accidentally spent too much time picking out her attire for the performance. Meanwhile, Anna explains how the point system will work and things get underway; with both Laura and Koharu managing to show off their radiance as they sparkle on the stage.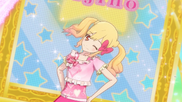 As she stands back stage, Yume reminds herself that she has a passion for singing and chose a coord to display it best. She proceeds to change and appears on stage to perform an old fan favorite!
Or not...
While the performance isn't as appealing as her first, S4 remark that Yume made it look like she had fun on stage, and managed to generally please everyone. The announcements are held not too long afterwards, with Koharu passing the audition for Moon Beauty, and Laura on the top of the Flower Song class chart. In disbelief, Yume listens as her own name is called at the very bottom of the list, and excitedly jumps into the air (while reminding us how skirt gravity works in anime).
Happily, Yume, Laura, and Koharu walk outside while discussing the turn of events. They run into a group of four boys, who Koharu and Laura recognize straight away, but not Yume. As it turns out, Yuki is an idol too! A member of M4, the top male idol group from the boy devision.
This means nothing to Yume, who states that S4 will always be the best in her eyes, and as such, its the only group she cares for. She runs off into the distance to sprint for her brand new goals laid before her, joined by Laura and a confused Koharu as the episode ends...
Alright. So where to begin?
I enjoyed the episode and getting to know another character a little bit. At first, I was hopeful that we may have gotten a new performance; only for those hopes to be dashed with the uploading of performance images.
Now don't get me wrong, I actually really like Aikatsu Step. But I can tell that I'm not the only one who believes its getting kind of old. This is an Aikatsu tradition though- to replay a song so much until you get jaded by just the mere mention of it and dred that it may be chosen again!
I kid. I really loved Idol Activities and Lets Aikatsu so I wasn't bothered by them at all.
Anyway, in terms of the coord Yume wore, it was adorable. I'd love to own it for something casual. Her 3D model is also growing on me too, although I don't think it would kill them to add more pink to her pigtails. That will be the one thing that bothers me about this series, I just know it.
Meanwhile, Yume is clearly a mash-up of both Ichigo and Akari I've noticed. Not only does she chase after someone she sees as "better", but she's stubborn, while being kind of hard on herself just the same.
In the end, the results of the episode were pretty obvious. But I did enjoy the episode, and I'm excited to see what comes this week in Episode 4. Here's hoping to a new performance!