And so we continue the review with Episode 2. I was so excited for this since we would be seeing someone new perform. While disappointed she didn't get her own song to show off, I was enticed by the throw-back to the previous series. We're also treated to the first glance at both the opening introduction and opening theme for the first-half of the season.
In terms of the opening, it was lovely. However, I personally felt it missed a "wow" factor the predecesors held.
With that I'm ready to begin!
The episode begins with Yume and Koharu watching a broadcast hosted by the S4. Yume is in disbelief over their attention and claims she still can't remember what happened and doesn't deserve any of it until Koharu convinces her otherwise. They take off to find out that several classmates are now aware of who Yume is, but unable to linger on it, the duo head outside with Anna and the rest of the class.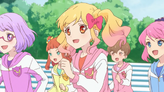 Ah yes, only the 2nd episode in and we're introduced to the long-running tradition of Aikatsu! Track and Field.
The girls train tirelessly until Anna singles Yume out and asks her to sing on her own. Yume fails to impress once more, causing the girls behind her to remark on it- along with Laura.
After the girls return to class, Anna reveals that after the week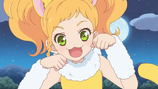 passes they will get right to the class sorting auditions. She has the girls take off and insists on them visiting the various classes to decide which may be best for them: starting with the Wind Dance class, led by a (
questionably qualified
) man (
who looks like he should be the bumbling scientist in some kiddie robot show
). Yuzu takes a moment with to convince the new students to join the group in dancing.
And in the process reveals that a fake tail can indeed move.
Next the girls learn of the majestic beauty that is... the teacher of the Moon Beauty Class.
Just teasing ;3
The beauty that is... balancing overly fancy water bottles on the top of your head!
Teehee~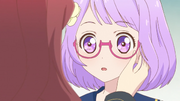 As Yume and Koharu watch in amazement, they fall from the spherical balls that teacher instructs them to sit upon.
Is it me or did the balls change size between shots?
Surprised by how effortlessly Yozora carries her water container, Koharu accidentally falls off of the ball and her glasses go missing. Yozora approaches to lend her a hand, continuing to astound the intimidated young girl. She takes a moment to observe her skin and remarks that she is the embodiment of purity and walks off. Koharu is left with an everlasting effect as they take off and decides she wishes to study under the Moon Beauty Class.
And with that our only piece of non-Yume shippers bait fades away...
Yume carries on to observe the Bird Theater Class next, followed by the Flower Song Class. Where at first the girls are surprised to see that nobody is doing anything except for drinking tea. Suddenly, one by one several of the girls proceed to drop.
To their shock, the girls realize that the students had no seats beneath them. They were standing over in this position for so long as part of Hime's own training and she effortlessly reveals that she had no problem doing it herself. She rises as Anna explains this to them and Hime compliments everyone for their hard work.
Yume leaves and is approached by Laura again. As it turns out they both desire to gain a spot on S4, as well as take the same class. Right away Laura makes her name known to Yume by proclaiming she stands no chance and takes off.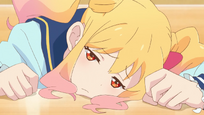 Back in the class, Yume recalls her day and meeting with Koharu until two classmates approach. As it turns out, with the upcoming party for all the new students- they must draw lots to team up with someone and put on a skit or performance for everyone. Yume excitedly draws before realizing she got stuck with Laura, then stays behind in class with her to try to come up with an idea.
Like Hot and Cold, Oil and Vinegar, Most Cats and Dogs, A Tsundere and anyone they Crush on- they simply don't work together. Two duo struggle to come up with an idea they can both support, with Yume claiming Laura is too relaxed, while Laura tells Yume to loosen up. When left with the final idea, both girls agree upon doing it and they get to work with training.
Incidentally, Yume frustrates Laura after she is unable to do well and Laura accuses her of hardly trying. She storms off after telling Yume to just leave if she won't, considering how much effort she puts into doing everything. Initially Yume is angry and even further annoyed by her haughty behavior and expresses this while having a drink in the cafeteria with Koharu. To her surprise, Laura stops by to drop off an envelope and walks off.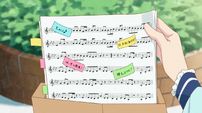 Yume opens it to find a score for the song they will perform and observes it to see that Laura marked everything with easy-to-understand tabs and Koharu decides to take off to get some practice done. Curiously, Yume approaches to find Laura with a pile of thick books and suddenly a new resolve is lit within her. She takes off and spends the remainder of the day training her tail off.
That evening, when Yume goes off for a quick jog she runs into Laura. They decide to join one-another and in this time, they realize they actually have some things in common and are able to get into tune with each other.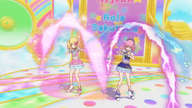 Eventually the Party begins, with them using the performance hall to hold it. Anna announces the start of the acts and Koharu performs magic with a classmate. Laura and Yume then prepare for their turn and change, stepping on stage to put on a performance.
It is then we switch from an Idol Shoujo to a school special known as Bullying.
As Yume and Laura walk from the stage, two girls remark that Yume probably didn't try very hard considering this performance didn't impress them. Yume sadly listens to them and Laura interupts to chastise the girls, telling them off by stating that if they waste their time gossiping, those truly born with a singing talent will pass them before they know it. The trio of girls walk off and Yume thanks her, but Laura claims she was being honest. The girls officially agree to become rivals starting with this instance and shake on it.
But unknown to them... a mysterious shadow lurks within the Principals Office.
Observing Yume's previous performance, the Headmaster comments that if Yume is unfit to join S4- he is free to expel Yume whenever he pleases and informs Hime of that.
Dun Dun DUN!
Alright, so in terms of episode; I love Laura but I have to admit that I wasn't nearly as excited as I was watching the first episode. I will be impatiently awaiting the next episode however, and I nearly screamed seeing how cute Yuzu looked in the kitty costume x3 I want one~
For the performance, I enjoyed it. The song is cute, and I liked the contrast between the girls singing voices. They fit well together. I noticed complaints over Laura's voice appearing a bit shaky between certain parts- but I actually only heard it near the middle at one line. I'm assuming it may have just been her singer adjusting to raising her tone other anything else. It may just be me, but I didn't actually mind it much.
The one thing that bugged me was that we never got an answer as to why Yume blacked out the way she did, and why she can't remember anything. Of course I have a theory on it but I've already went over it in discussions.
I'm glad we got to meet the Teachers a little bit and see the classes. They actually looked like fun. Which did you enjoy the most? Which Teacher stole your attention from the others?
Chew on these and leave a response in the comments as you read "Hibiki's Aphorism!"

Well, episode 2 was something...First things first...no explanation on why Yume fainted so I guess I'll have wait for that one :( Anyway, Start Line! is as good as ever but it is really wierd without "Saa tobira wo akete, Chansu ga matteru" at the end but I guess they need to keep opening/ending songs in the 1 minute 30 seconds mark. Talking about endings...episode Solo - still love it! 
Onto the episode itself! (This may end up sounding more like a "How does that work?!" thing instead of an actual review XD)
Where in the world does Anna get that microphone from?! Does she carry it around with her everywhere? XD
"Phantom of the Cats"...Phantom of the Opera, anyone? And seriously...Yuzu has to explain how she is moving that tail. And I want these teachers as my teachers at school (besides the headmaster...I don't need him). I'm so done with this anime, in a good way XD How are these girls balancing water bottles on their heads?! I can't even balance...well...um...never mind. I'm even more done with Yozora. That water bottle is huge o.O
Tsubasa = god. How did she cry like that?! I need to enter this Bird Theater Class and learn how to do that! I am not joining the Himetrain. I would collapse in two seconds. Maybe Tsubasa and Hime will both become God in my eyes by the time this series ends XD
Poor Yume XD She's stuck with Laura for the welcome party thing. Didn't really have an opinion on Laura in episode 1 as we only got to see her for like 5 minutes but this time, we got to actually get to know her...and I love her >< And I really don't blame her for having a go at Yume as I would have reacted the same if I was paired up with someone who did an amazing job at singing on stage but is suddenly terrible at singing off stage. And she's so nice >< She's such a good friend for giving that score to Yume to help her improve~ And it was also nice to see them get along and watch Yume help Laura improve on some of her dance moves~
"HEY, PARTY PEOPLE!"...Anna...I want you as my teacher ><
Okay, so its now Yume and Laura's turn to do their performance. I remember I never said anything about the changing rooms in episode 1. Well, they're amazing and so cool. You have to jump to get to your clothes. I wanna try that! Anyway, the performance was awesome but...like I stated on Laura's page, (not sure where I said it) it bothers me how shaky her voice is and how she doesn't sing the long notes long enough. But I thought Yume did an awesome job like she did in episode 1 but not according to three students and the headmaster...
Oh~ That headmaster...I am going to...*breathes in and counts to ten*...He can't expel my precious Yume! The good thing about this is that something interesting is actually happening because I don't remember something this shocking happening in Aikatsu! So bring it on horrible headmaster! You have to get past me to get to Yume! XD