Minasan! Welcome to my first ever review~
I decided to write this because it sounded like fun and could be good writing experience. Someone wished for some opinions and requested that I do this as well. So please, join me as we step into onto the path of a brand new Idols first steps in her journey!

A week late but work with me...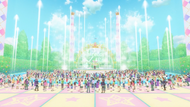 We start with the protagonist as she hurries along a crowded train area. She's cute, she's energetic, pink, and quite the klutz as we see here and later on. She continues on while thinking back to a life-changing desicion she made prior to the series before locating her friend Koharu.
Inside the performance hall we are given our first taste to the brand new Aikatsu that has been born; and what a taste it was! Like the fireworks at the end of a festival, or the bonus prize from winning the lottery or a game, or a huge sundae covered in ice cream, fruits, (optional) nuts, syrup, cream, AND candy!
The Princess-Idol known as Hime steps out onto the stage and performs Start Line! for the audience- with Koharu and Yume making their wish known before sending their papers in to Four Star Academy.
About five minutes into the whole series and we're already treated to our first time skip. Was anyone else a bit confused by the lack of context at first?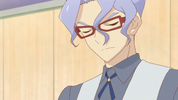 For the next several minutes of the episode our eyes are assaulted by the beauty that is Four Star Academy.
As you can see, if has all the markings of a good school: A wide open campus, modern features, large dorm rooms, and an ambiguously questionable man who takes the stage to speak to all of the new Students. In this time, we are treated to various shots of future to-be Idols in the series no doubt; from a bitter looking Mikuru clone to a perky cat girl. 
We learn more of the beloved Idoling Group of the school: the S4. Starting with the Elegant, sisterly Yozora from the Moon Beauty class, followed by the fluffy-haired Yuzu, from the Wind Dance class. Next appears the passionate (but oddly cute sounding) Tsubasa from the Bird Theater class, and lastly, Yume's own favorite, Hime from the Flower Song class.
Afterwards, Yume and Koharu prepare to attend their first class- with Yume lamenting her sadness over not being with her friend for it. She cheers up upon being reminded they will see each other most of the day and they separate.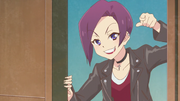 Once seated, we are left wondering what Johnny-sensei did between his time off with the series skip with the introduction of the lively Anna Hibiki; who proceeds to steal the show from the confused Protagonist by acting as the momentary exposition and giving some helpful (if a bit predictable) advice as an Idol.
She gives each girl their IDs and Aikatsu Mobile, but in the midst of Yume's words of self-encouragement, she is interupted by a classmate who asks to be let into the room through the window.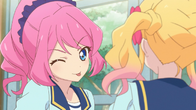 Yume continues to speak to herself but seeing how persistant the girl is, she lets her in and meets the cheeky Laura Sakuraba.
Laura is called up to the front of the class by Anna- who boldly comments on Laura's nonchalont attitude before pointing out to the class that this was partially what she was just refering to. She decides to let Laura off of the hook and the drill-haired girl returns to her seat. 
Before Anna can resume, the class is dismissed when the bell rings and she suggests the make the best of their free time from now on. With some Idols deciding to rest, and some ready to start training- Yume and Koharu reunite and settle on a special tour from an app, narrated by S4.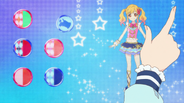 The girls travel around the school and they explore the cafeteria, the dorms, and lastly, the Dress Make room. We learn that instead of going to Top Designers- the Idols are now in charge of making their own dresses. With a brand new, simple, touch-based interface an Idol can create the look of her dreams- as long as she has the right requirements.
Yume and Koharu take off to find a large group of girls from the school making their way to the main area outside of the campus. There, they find S4 flaunting their stuff as they prepare to leave for some recording work, where Yume gets the brilliant idea to try to catch Hime's attention by climbing a tree.
Ichigo and Akari climb mountains with proper attire and Yume climbs a tree in a dress; classy.
By the time she realizes Hime has already left, a young man calls up to her and amidst their arguement, she falls on top of him.
I'm no expert, but shouldn't that sort of fall have broken something?
Right away a dynamic is set between them; boy insults girl, girl gets embarrassed and tells him off, boy proceeds to make the girl shut up when proven his superiority- I smell future friends in the making~!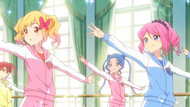 Yume flees back for her dorm afterwards and learns from Koharu that the Class Sorting Audition will be taking place soon. They also begin training for the first time the following day; with Laura and basically every over classmate showing her up.
Momentarily disheartened, Yume meets back up with Koharu when they finish. Koharu attempts to encourage her good friend by pointing out that even if Anna failed to be impressed, she always makes her smile whenever she sings. Yume is touched by such words; only for the girls to be informed by Anna that they need to hurry on to the Auditions!
Taking the classes onto the stage, Anna informs the girls that they will be performing before not only her fellow Teachers and (oddly handsome) Headmaster, but the S4 as well.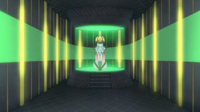 A bundle of nerves, Yume and Koharu try to keep each other calmed before Koharu takes her turn on the stage. Before taking her turn, Yume gives herself a pep-talk and steps into the futuristic, redesigned Changing Room. She inserts her Pink Star Coord Cards and shows-off the brand new Changing Scene- wowing (and partially scaring some of) the fans!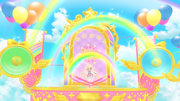 With an oddly huge Idol Aura, she amazes the audience members while performing Aikatsu☆Step!
Everyone questions how someone so new could be so talented and soon the performance comes to an end. As they remain pleasently surprised, it turns to shock when Yume suddenly blacks out and is rushed to the infirmary.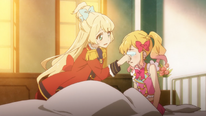 For all of her effort, she is reduced to tears upon being greeted by her personal Idol, while we are rewarded with our first piece of Yuri-bait!
Hime comforts the poor, shaken newbie Idol and assures her that she is okay. But Yume finds it questionable that Hime even knows her name and asks how that could be. Instead of answering her, Hime suggests she gets more rest and takes off, allowing Koharu to visit her now.
Did anyone else wonder why Hime WOULDN'T know Yume's name? It's on the stage, and its probably made aware to them prior to the performance at some point as well.
There, Koharu learns that Yume is unable to remember the performance. She watches with awe when Koharu reveals it was recorded and she curiously attempts to determine why she can't remember it and the episode concludes...

And now, its time for... Hibiki's Aphorism!
Aikatsu Stars! has finally begun and I was so excited for it. As this is a joint review with Chris, I'm not gonna bother writing what happened in the episode as you have already read Chris' long summary of it, so you'll just get my lovely opinion on the episode~ Without further ado, let's get started!
Can I just say that I love Start Line! to death. Like, it is so good that I found myself singing along to it even though I didn't know the official lyrics XD Although, I wish Ruka could have changed her voice a little bit more so Hime didn't sound like Akari >< 
Anyway~ All the characters seem really interesting, especially Anna who seems to be the "Johnny-sensei" of the series. Hopefully she doesn't become an exact replica of him because that would be sad and repetitive. Yume is probably my favourite character. I have a soft spot for main characters and Yume is no exception - she is such a cutie >< I can relate to her a lot, especially when someone sings better than me, I can get rather pissed off or jealous XD
I swear Subaru is such a jerk XD And I love him for that. I want more of him and more adorable Yume/Subaru interactions as their first interaction was really cute and funny. This interaction made me think they could be strong rivals in the future.
Skipping some more things that I don't really feel like talking about~
Aikatsu☆Step! is such an adorable song. Not as good as Let's Aikatsu! though but it is a lot better than the legendary Idol Activities! in my opinion. Yume's voice reminds me a lot of Ichigo and Akari's voice mixed together which is nice as it makes me think of Ichigo and Akari and the their journeys to get to where they went. God, I'm wierd for thinking like that XD
I was shocked when Yume fainted at the end of her performance. I did not expect that to happen so early on in the series. I have a feeling the wierd rainbow colored eyes thingy before she got that giant rainbow appeal had something to do with her fainting. I was even more shocked when it turns out she doesn't remember her performance at all. From watching episode 2 live, it looks like it wasn't touched upon...so hopefully it is explained later on in the series.
To finish this off...episode Solo is the best song so far. It is life itself! Why are the songs in this series so good so far~? ><